When you think about Romania, you might think about Dracula, Transylvania, Nadia Comaneci, Giga Hagi, scrapped metal or gypsies. It's quite hard to put all of these in a single sentence. That's because the perception of Romania depends on who you're talking to and the context of your conversation. When it comes to tourism, some of the first things that come up when you Google "visit Romania" is "how to avoid pickpocketing in Romania". Therefore, it's time to go back to Packman's origins and dispel the biggest myth that seems to surround this subject: "Who Steals What in Romania?".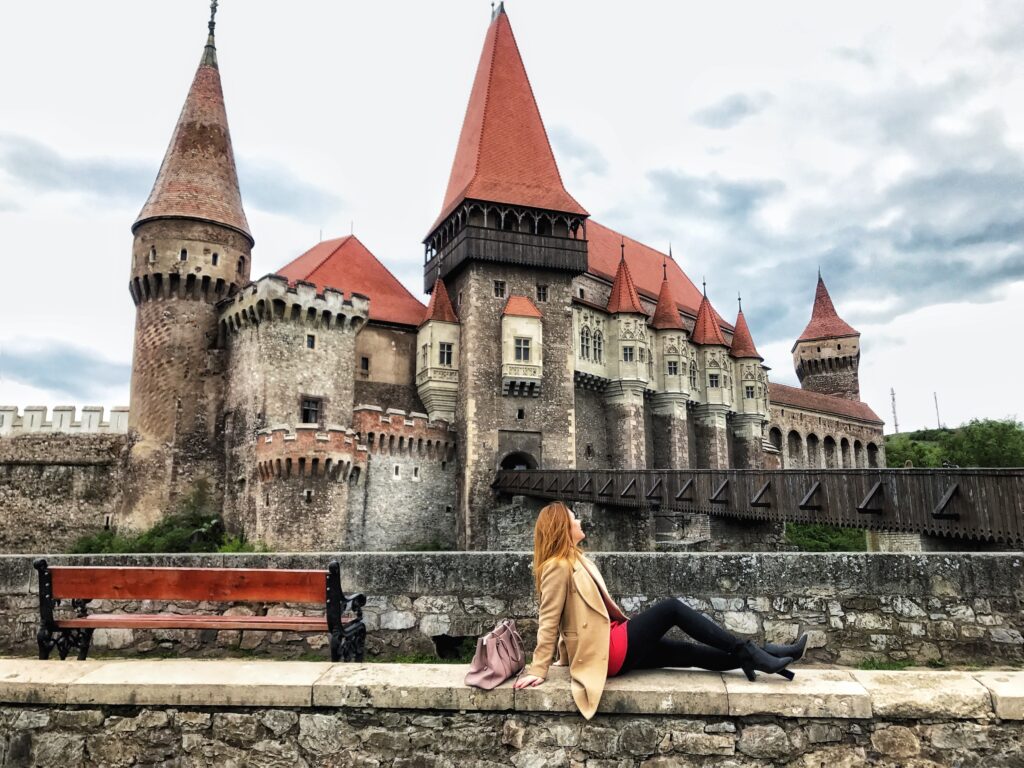 As much as I would like to do some justice, I want to keep this very open and honest with you. I do have to admit that "everyone steals in Romania". Oh, are you wondering what do they steal? Well…it might be shocking, but it won't actually be anything from your pockets and it won't be any scrapped metal either. However, there is one thing that Romanians are very likely to steal from you, a tourist setting foot here for the first time, and that's YOUR HEART. Despite what some might imagine, Romania is truly gorgeous, full of kind, loving people and so worth visiting!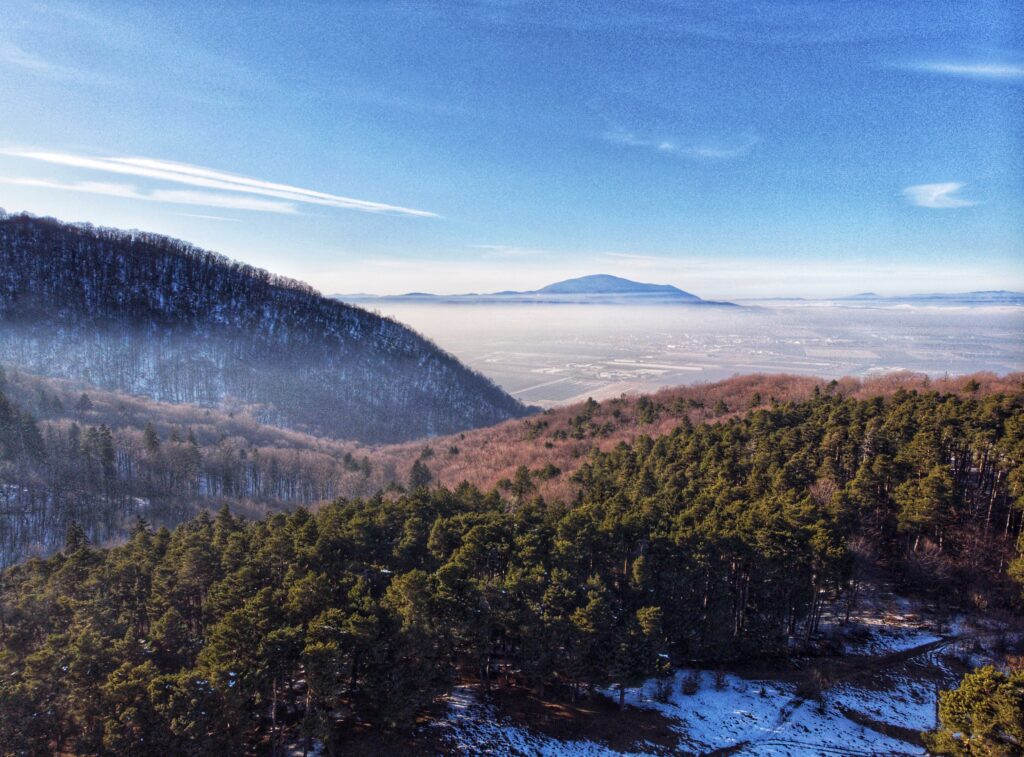 So, let me tell you everything they've not told you about my homeland- Romania. And since I'm from Transylvania, I'll focus on this part of the country. Here's a list of things you should keep in mind when planning your trip – I have no doubts it'll steal your heart too. You may know Transylvania as the mysterious land of bloodthirsty vampires hiding in medieval castles and howling wolves. Some may think it's fictional, but this central Romanian region is a real place. It's beautiful, mysterious and has so much to offer! Bordered to the east by the Carpathian Mountains, 'the land beyond the forest' still feels undiscovered. So, pack your garlic and get ready for one of the most captivating regions of Eastern Europe.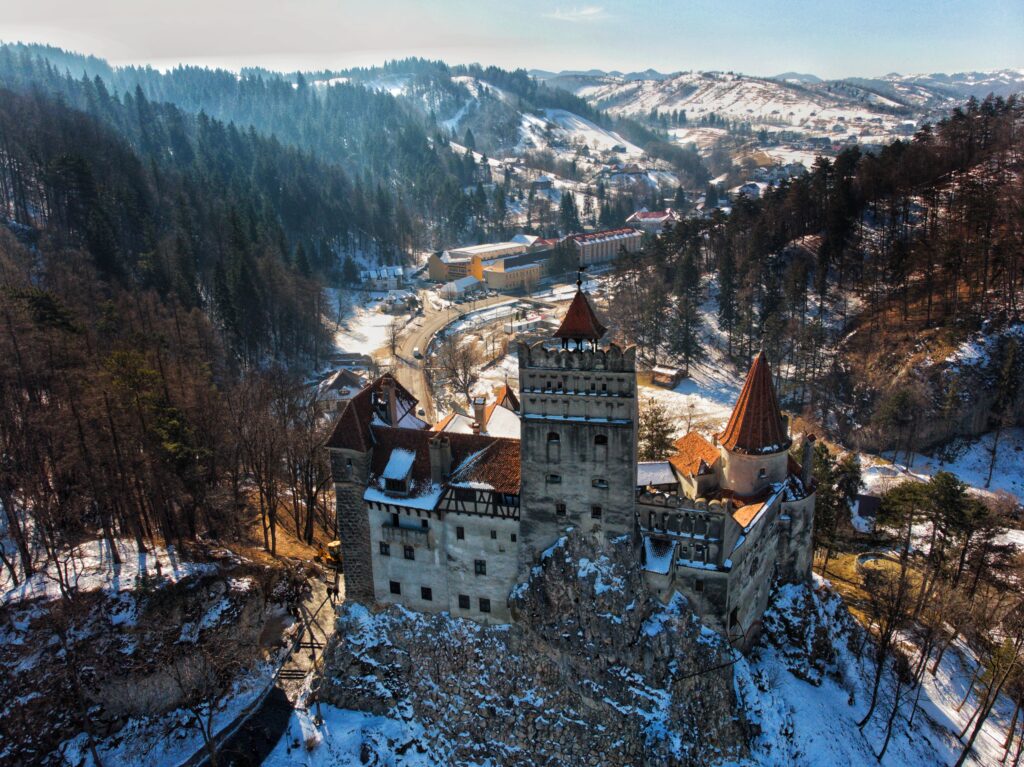 Tip No 1: Pick Your Seasons
Transylvania has the real-deal four seasons. Springs are mild and sunny. Autumns bring beautiful red-orange-yellow colours and windy, rainy weather. Winters are cold, and the temperature can dip as low as minus 20-25 degrees Celsius, but it's the perfect season for skiing and snowboarding. Summers are hot, with temperatures between 25-36 degrees Celsius so that's the season for hiking and swimming in Transylvania's many lakes. So there's no perfect time to visit it- you can choose as you please.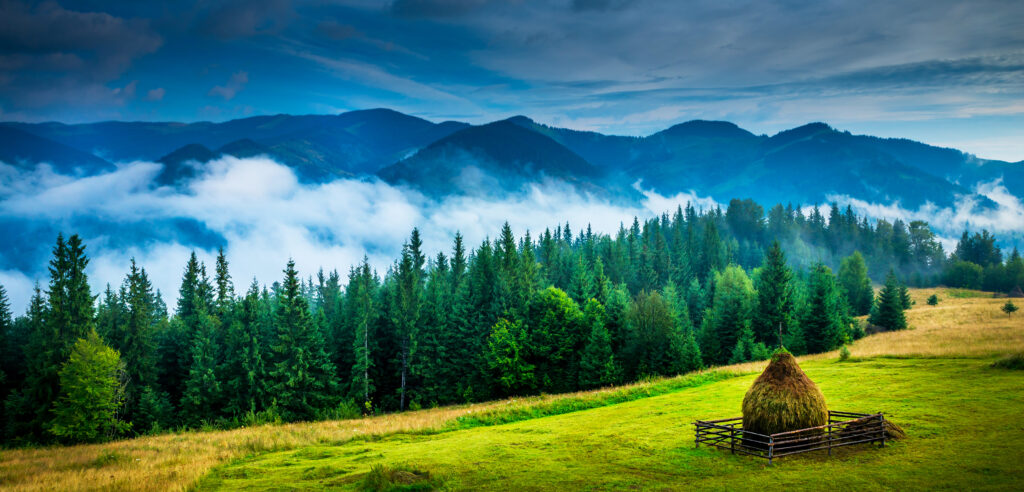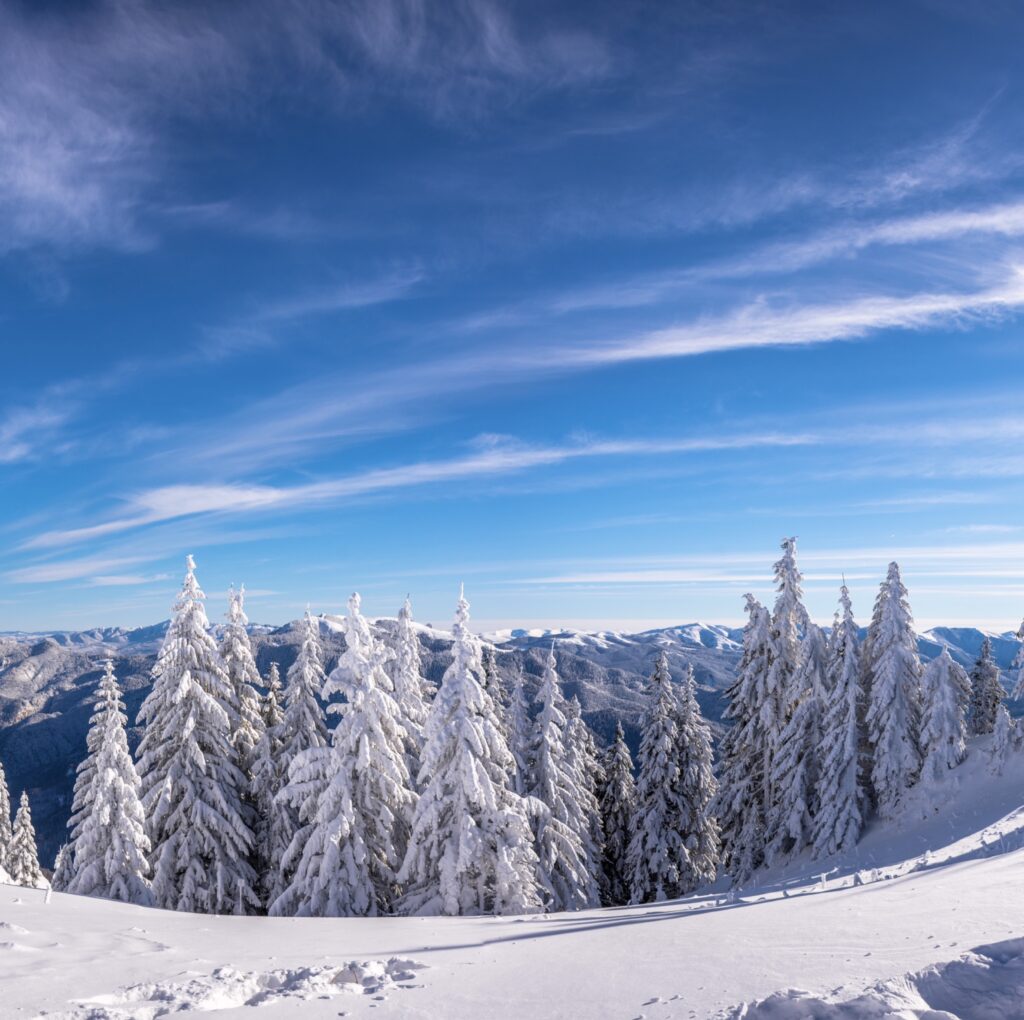 Tip No 2: Your Starting Point in Transylvania – Fly into Cluj-Napoca
Start your trip in Cluj-Napoca, right in Transylvania's heart and cultural hub. Avram Iancu International Airport is the second-busiest airport, so you'll find numerous airlines running flights here. You should also make Cluj-Napoca a key stop thanks to its nightlife. Cluj-Napoca was the 2015 European Youth Capital for good reason. Over 100,000 students live there, so naturally, nightlife is big. It's also home to three of the biggest festivals in the country and even in Europe: Untold, Electric Castle, and TIFF. But remember- unlike other parts of Europe, parties rarely stop before 5-6 a.m., so don't even think of arriving before midnight.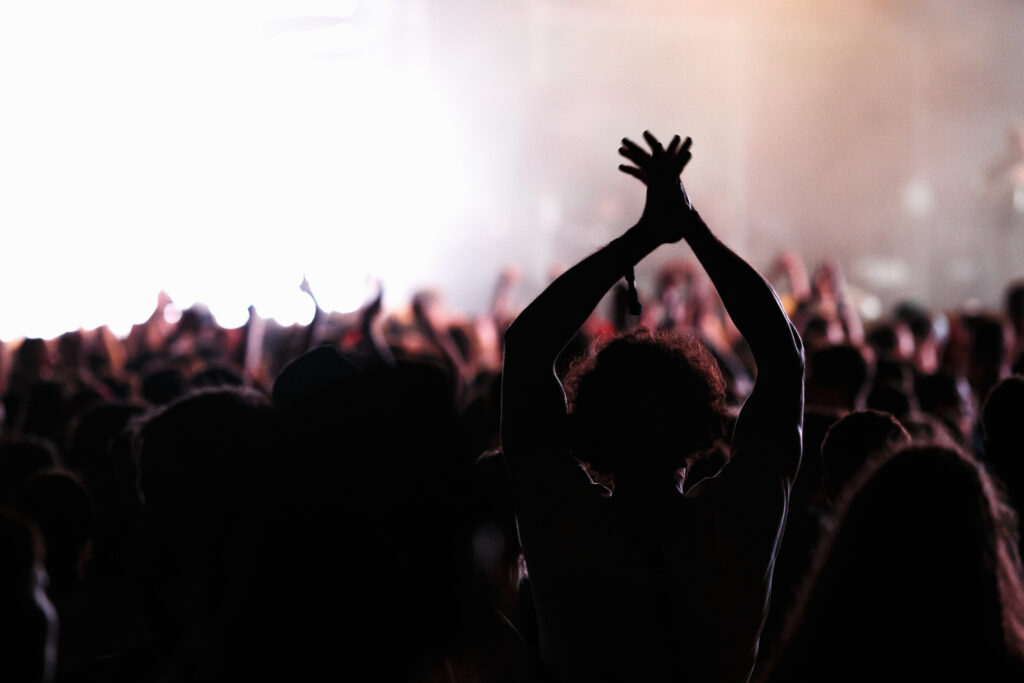 Also, you might want to try Cluj-Napoca's traditional dish to cure your hangover: varza a la Cluj. The savoury plate contains cabbage, rice and meat and can be flavoured with cumin, thyme or paprika. You can serve it with some bread and sour cream.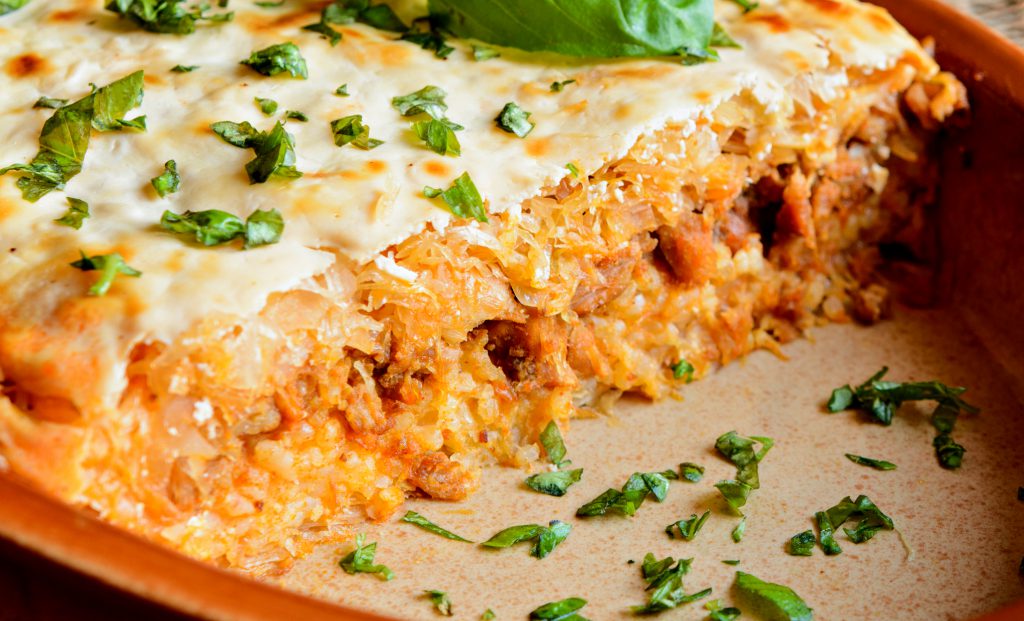 Tip No 3: Drive around Transylvania and Explore Romania's Most Famous Road – Transfagarasan
Romania's railways are old, rickety, and slow, so it's definitely more practical to rent a car. It'll also offer you more flexibility to see all the remote mountains, castles and villages. You'll find a few rental places at decent prices in most major cities (if you flew into Cluj-Napoca, there'll be plenty of options for instance). Talking about driving, Transfagarasan Highway is one of the world's most picturesque roads. More than 150 kilometres in length, it is Romania's most spectacular road. Thanks to its appearance on "Top Gear" in 2009, it's now one of the country's most popular tourist attractions. The road's highest point is at 2042 metres and it's fully open from June to October.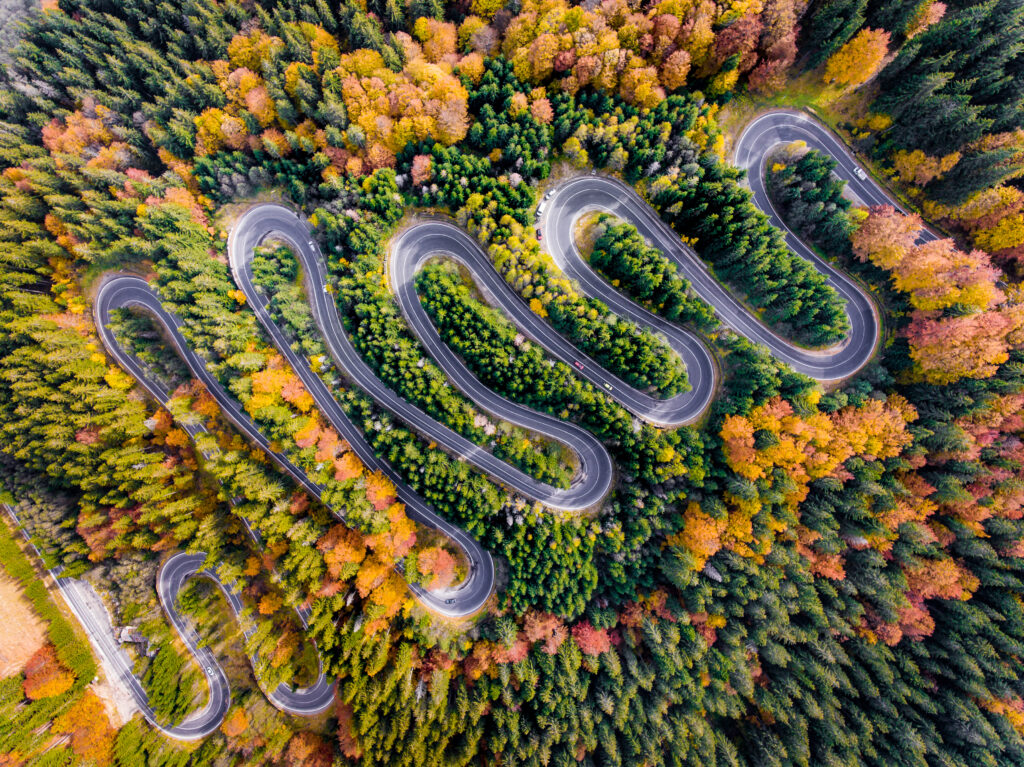 Tip No 4: Learn About the Unification in Alba Iulia
Here, in Alba-Iulia, you'll find the beautiful Alba Carolina Citadel, which offers you a real journey through time. A Vauban-style fortress, it is one of the most impressive of its kind in Europe and it was built between 1716 and 1735. It's also where the Great Union between Transylvania and Romania took place on the 1st of December 1918. So, if you're around on this date, keep in mind that this is when Romania celebrates its National Day, so an impressive parade takes places each year. Besides the Citadel, you may want to visit The National Unification Museum and The Unification Hall.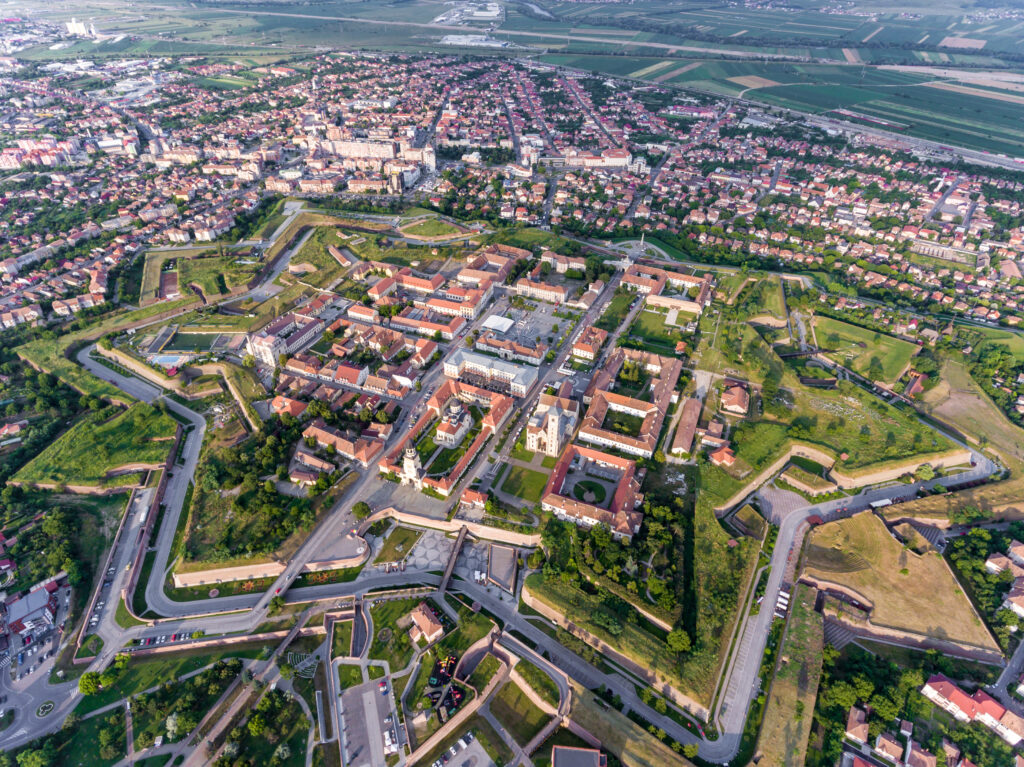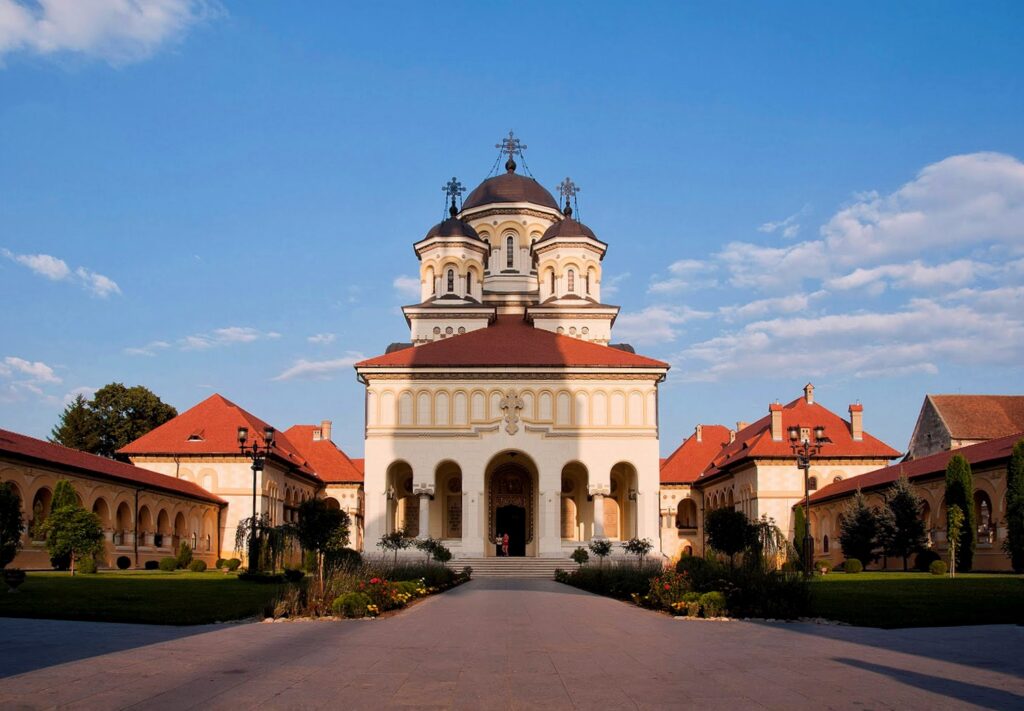 For a great place to eat, I highly recommend Pub 13, which is inside the citadel's wall and right next to Gate III. The main room has the shape of an inverted cone and you'll be amazed by how spacious it is. The walls are full with chivalry decorations, including full body armours, and they serve the most delicious food in Alba-Iulia.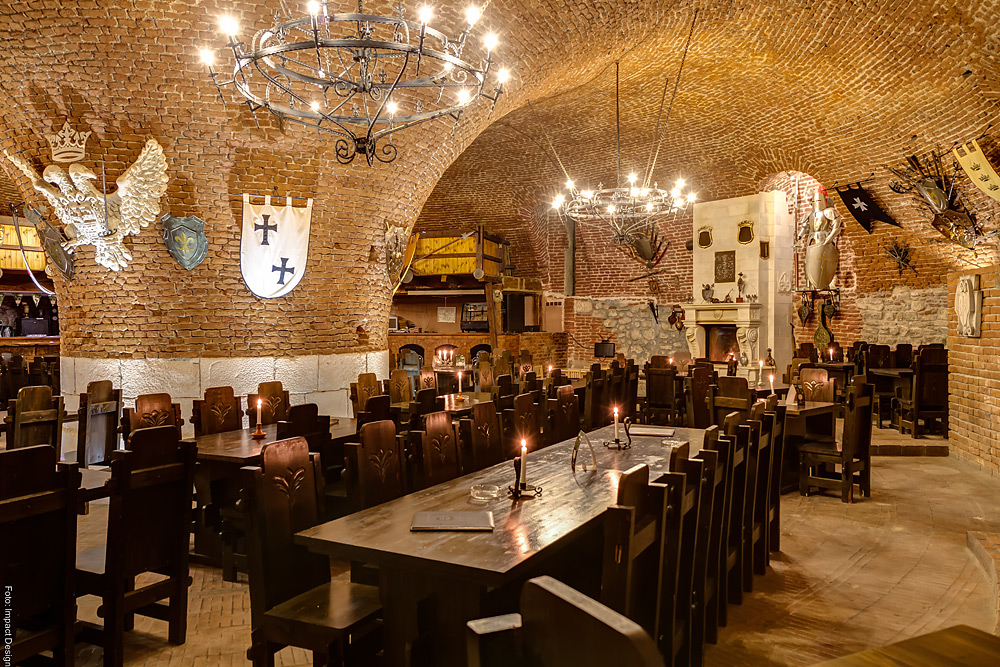 Tip No 5: Turda Salt Mine
Also located in Cluj county, you have Turda salt mine, which attracts hundreds of thousands of tourists every year from all over the world. Salt mines have a unique micro-climate, so doctors encourage those with respiratory problems to spend regular time here- a practice known as salt therapy. There's even evidence that the Romans spent time in salt mines 2,000 years ago for the same reason.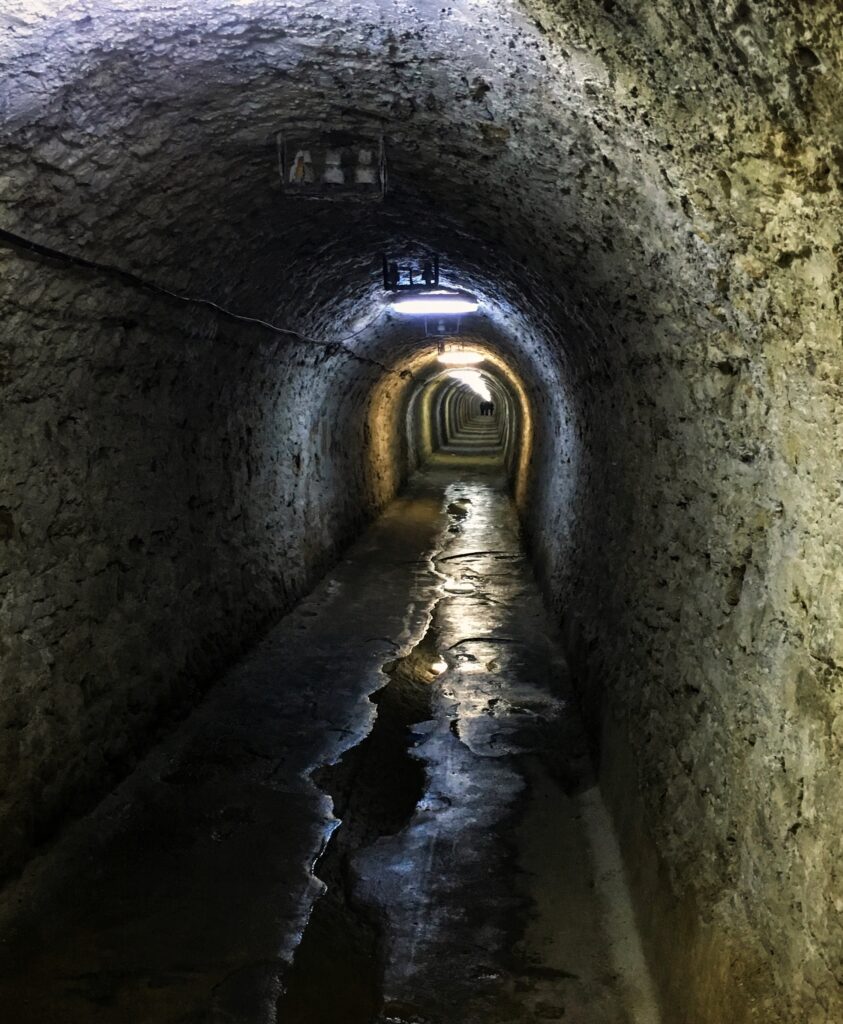 The idea is to spend at least 3-4 hours inside, so there's even an amusement park to make time go by faster. You can also spend time walking, chatting reading, and since there's also a small lake inside, you can even practice your rowing skills. My favourite part is that there's no phone reception, so it can be a great way to disconnect from the outside world.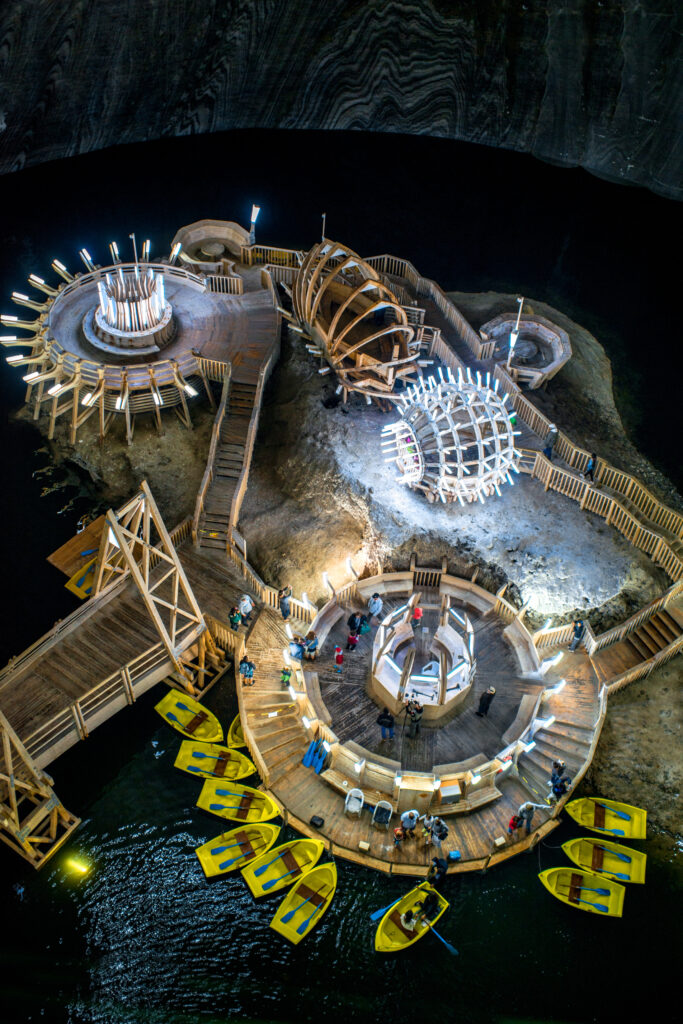 Tip No 6: Understanding the Mix of Ethnicities in Transylvania
Next, I think it's worth understanding the mix of ethnic groups you can find in Transylvania. With a population of just under 7 million, 70% are Romanian, 18% Hungarian, and some smaller percentages are Roma, Ukrainian and German. In 1920, after the World War I, the Austro-Hungarian Empire dissolved and lost Transylvania to Romania. This still gives rise to tensions, so be sensitive to the region's historical baggage. Although I will not cover the eastern Transylvania, you should know that some Hungarian phrases could be handy in counties such as Covasna, Harghita and Mures.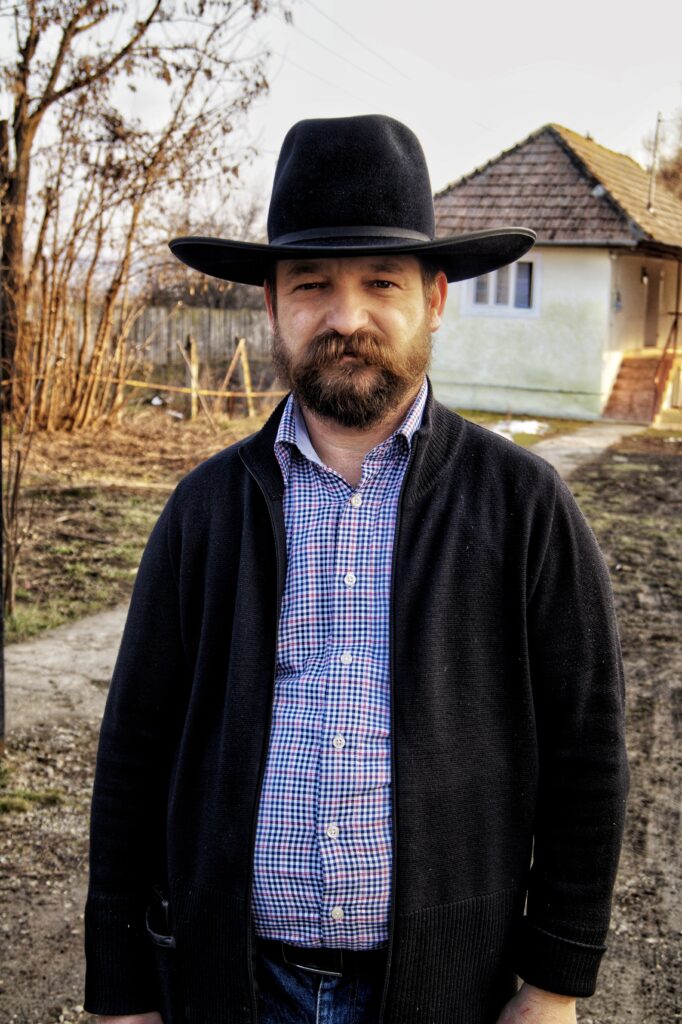 Tip No 7: The Corvin Castle
Next, we have Corvin Castle, a fairy-tale place located right in my hometown: Hunedoara. Built in the 15th century as a fortified residence for a regional ruling dynasty, there is so much history of Transylvania that you can learn here. It's one of my very favourite spots as it truly preserves its authenticity.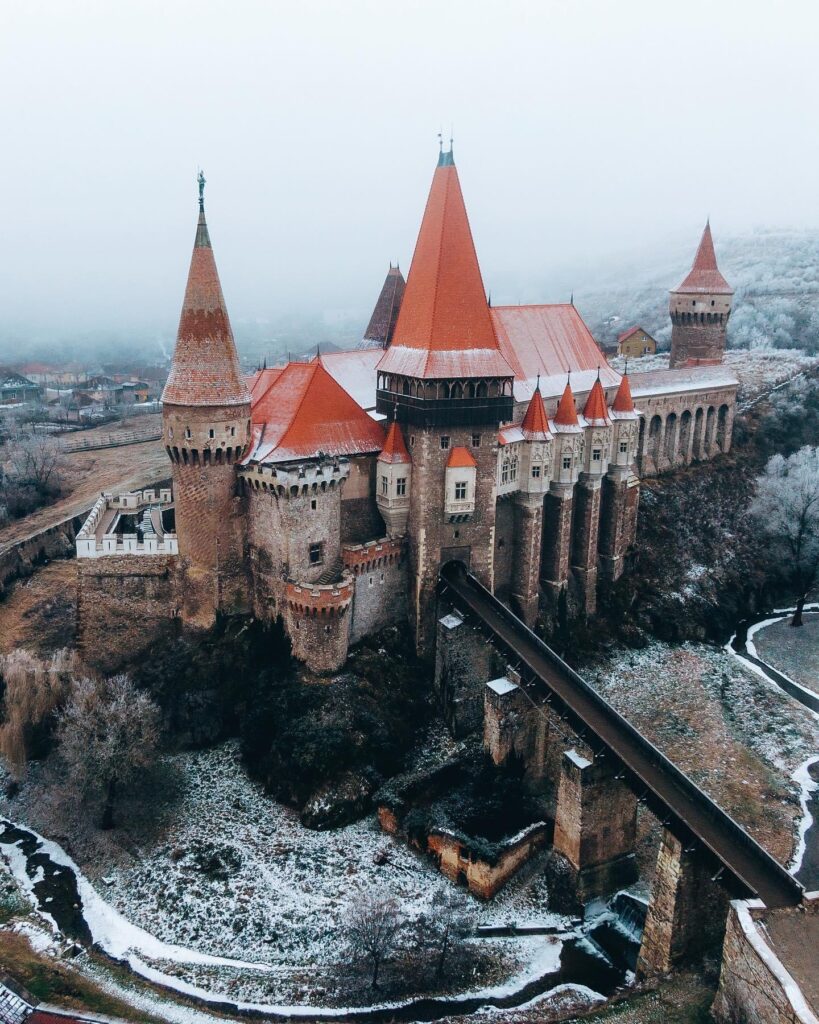 I'd spent all my childhood in Hunedoara County, so I could write an endless list with things to do, such as trying one of my favourite desserts at Cincis Motel, taking a walk at Gura Apelor, skiing at Straja Resort and hiking Retezat Mountains. But I'll save this for another blog, so keep your eyes on this space.
Tip No 8: Sibiu
Sibiu has an interesting mix of old and new. Its city centre preserves the medieval towers and town square, while growing its reputation as an academic and business centre. In 2007, the city shared the title of European Capital of Culture with Luxembourg. Since then, Sibiu invested heavily in renovating the facades of dozens of buildings and raising its international profile. Just like many other areas from Transylvania, Sibiu it's known for its German influences. That's thanks both to its architecture and its Saxon descendant population.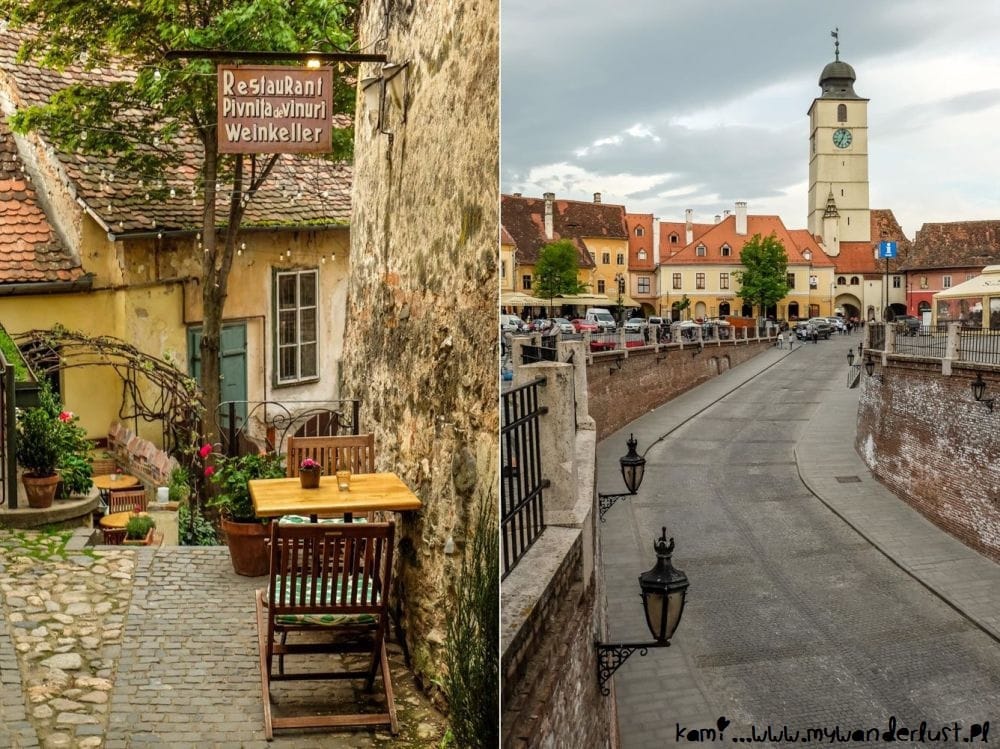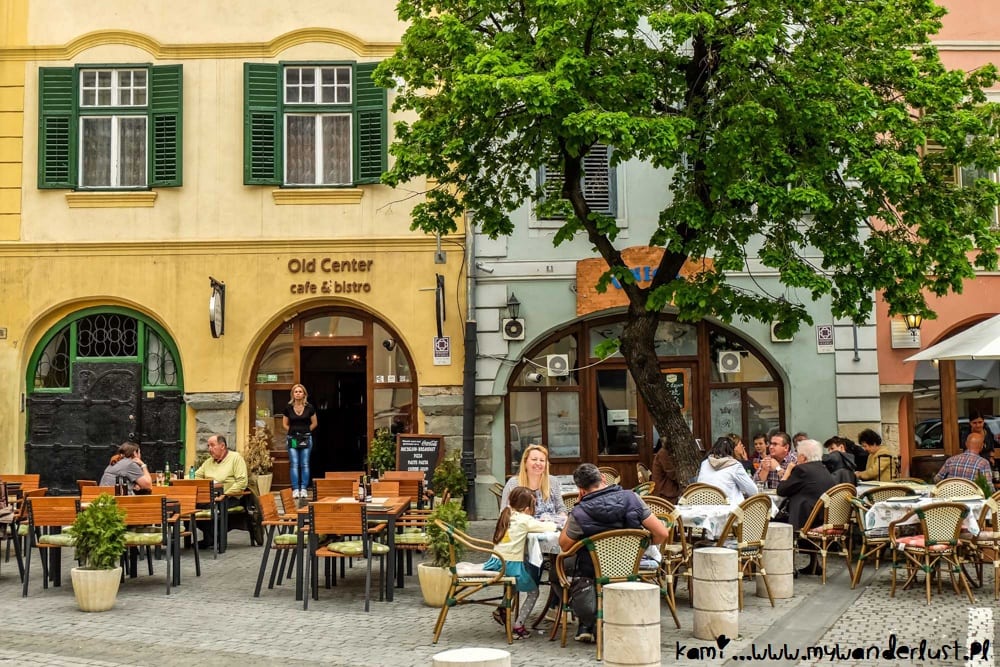 Therefore, Sibiu hosts each year one of the liveliest Christmas Markets in Romania. You can find anything from mulled wine to roasted almonds, bratwursts and handmade decorations. There are all kinds of entertainment such as a skating ring and a small amusement part. It's my shame that I've only seen Sibiu once, during the Christmas market. It was definitely was not enough to take in all its amazing architecture. However, my friends and family LOVE it and you can check out Kami's page for more incredible pictures of it.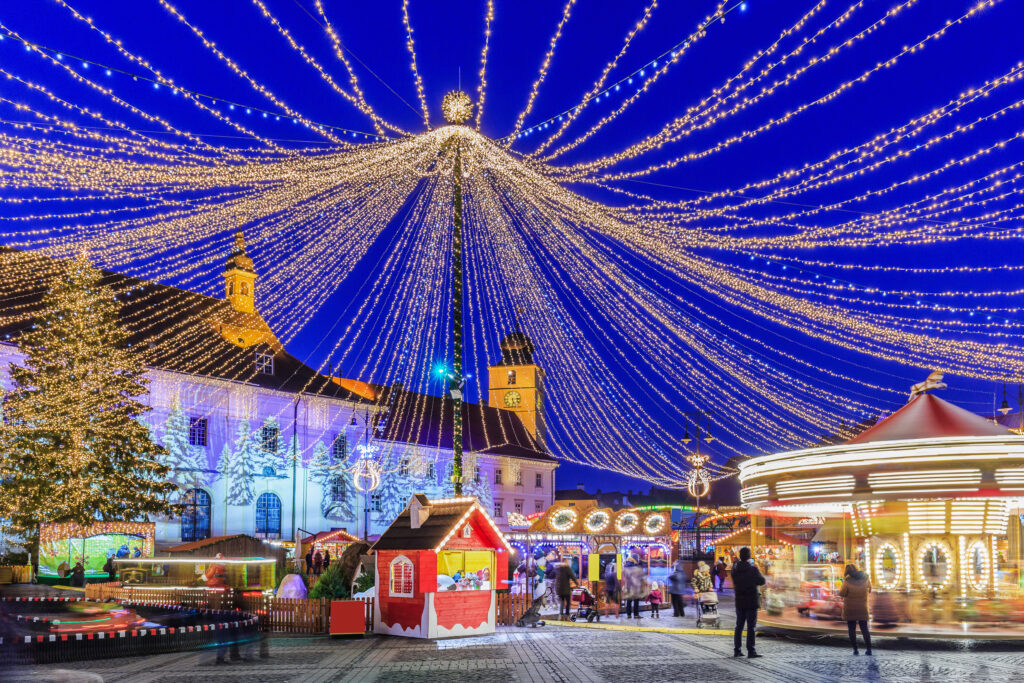 Tip No 9: Transylvania's Medieval Town – Sighisoara
Even if it's just a small town, Sighisoara impresses with its well-preserved architectural monuments, reminiscent of the town's medieval past. The cobbled alleys, narrow streets and medieval towers bring you back centuries ago and give you the feeling of a small medieval town frozen in time. Given its importance, the Citadel of Sighisoara is considered a UNESCO heritage and it's amongst the best-preserved still-inhabited citadels in Europe. The Citadel, the Square, the Clock Tower are just a few of its beautiful 16th-century landmarks.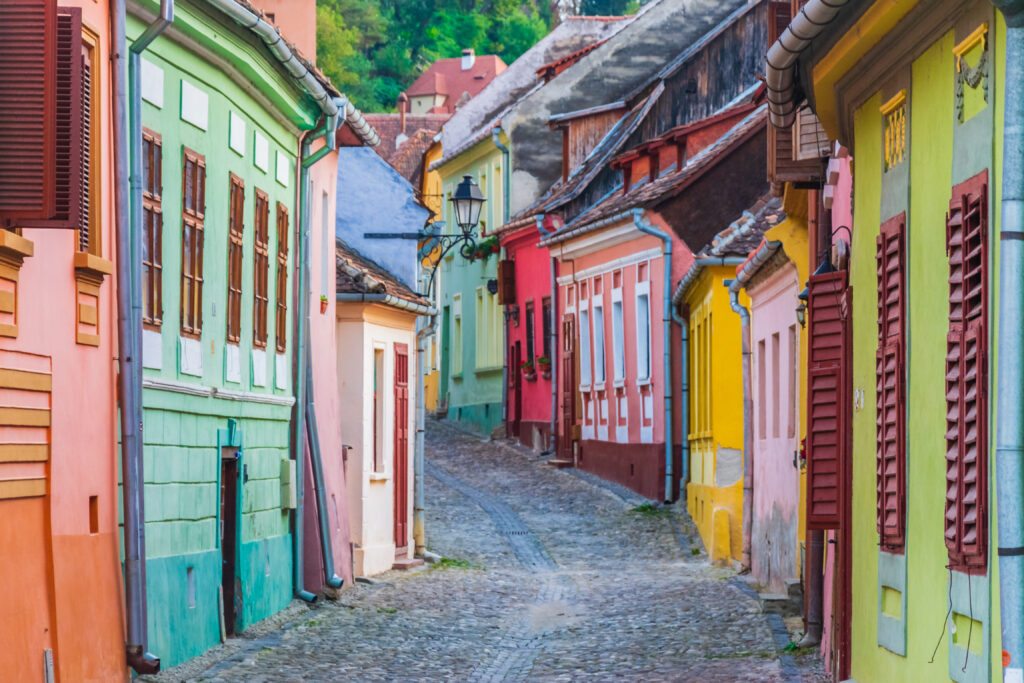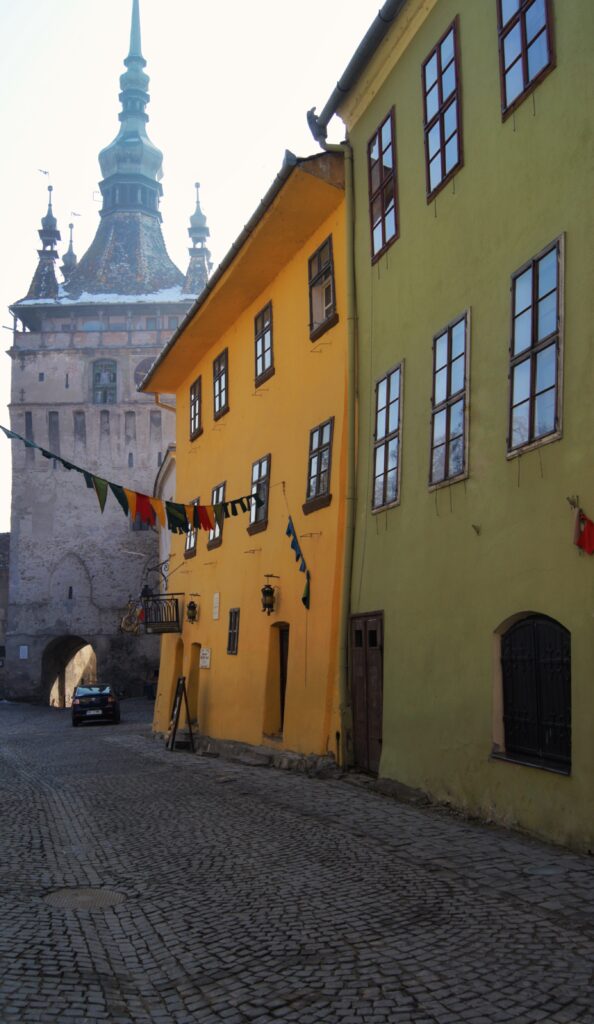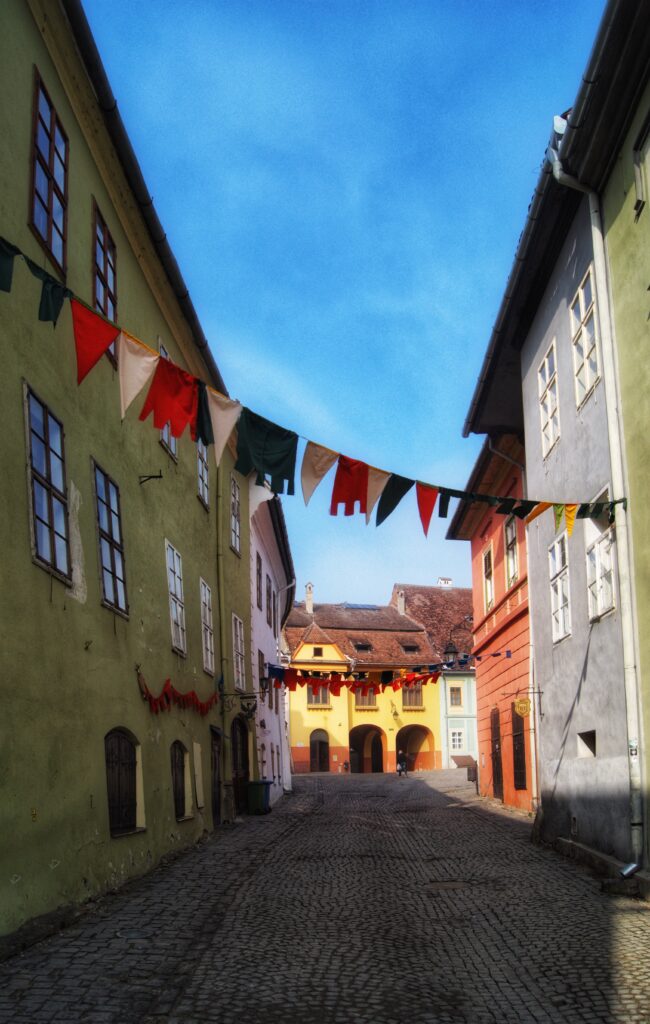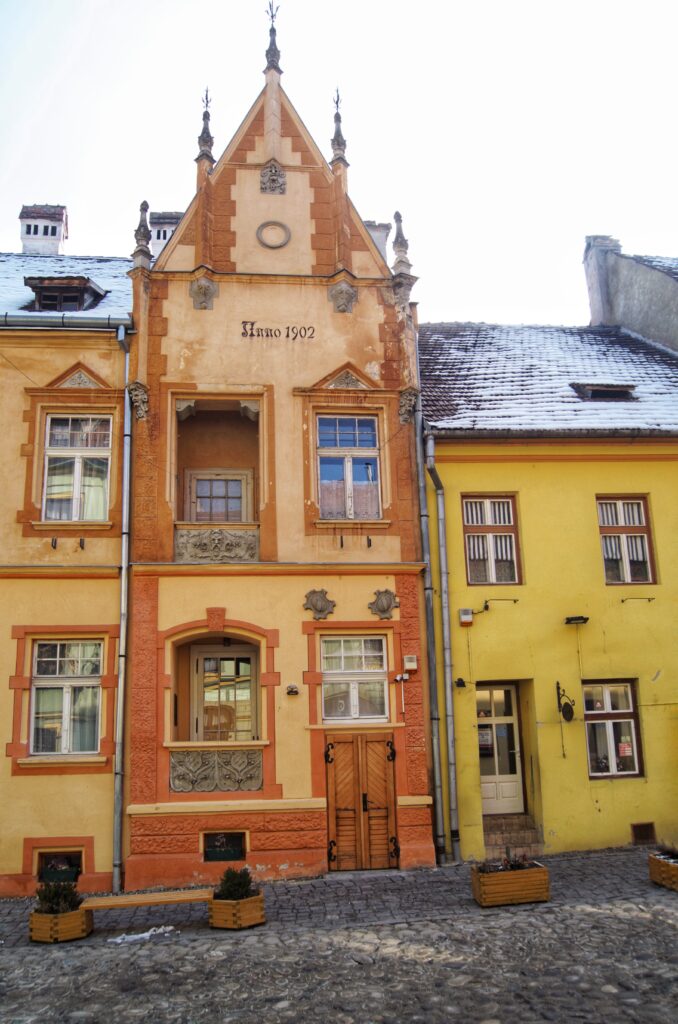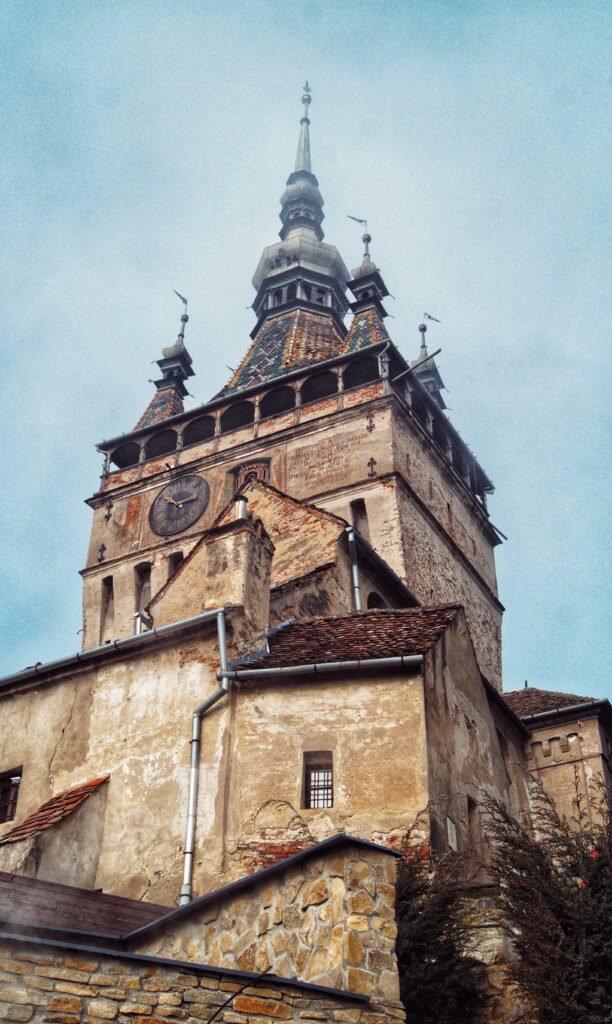 Tip No 10: The Saxon Villages in Transylvania – Viscri
Also a UNESCO World Heritage Site, we have the group of seven villages with fortified churches. Six of these are Saxon villages as they were founded by German settlers in the 13th-14th century. I have already mentioned the interesting mix of ethnicities that Romania has and after visiting Sibiu and Sighisoara, I'm sure you're already familiar with the German influences. The Saxons made their mark around the 12th century, when they came to his region to defend it. Over the next few centuries, they built numerous fortress towns and fortified churches. Now, these well-preserved buildings are a living testament of the fascinating history that Transylvania had witnessed.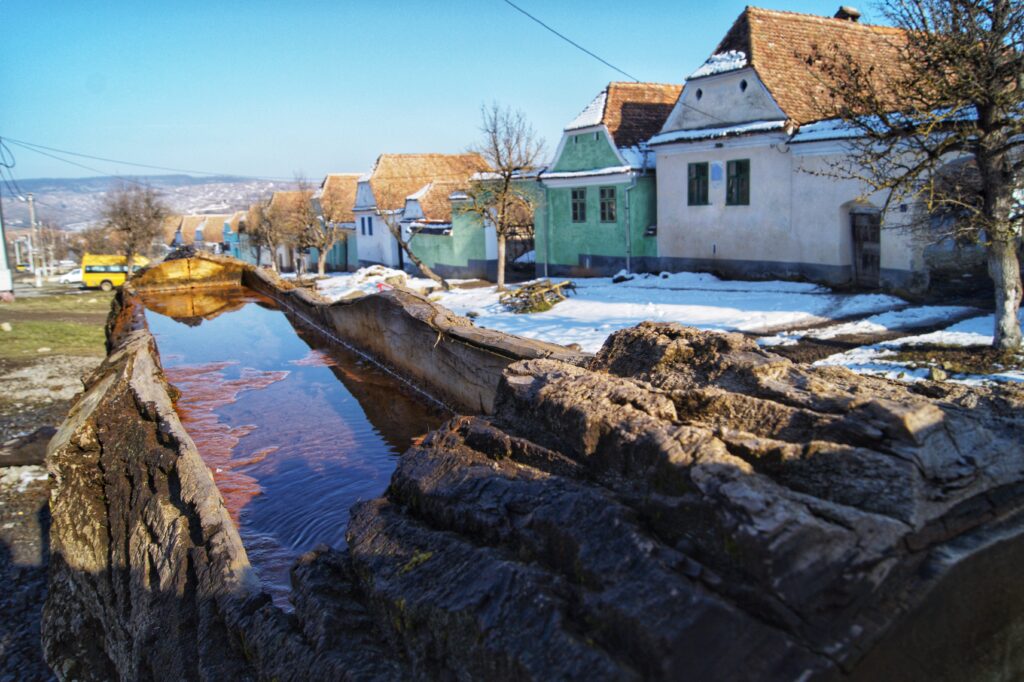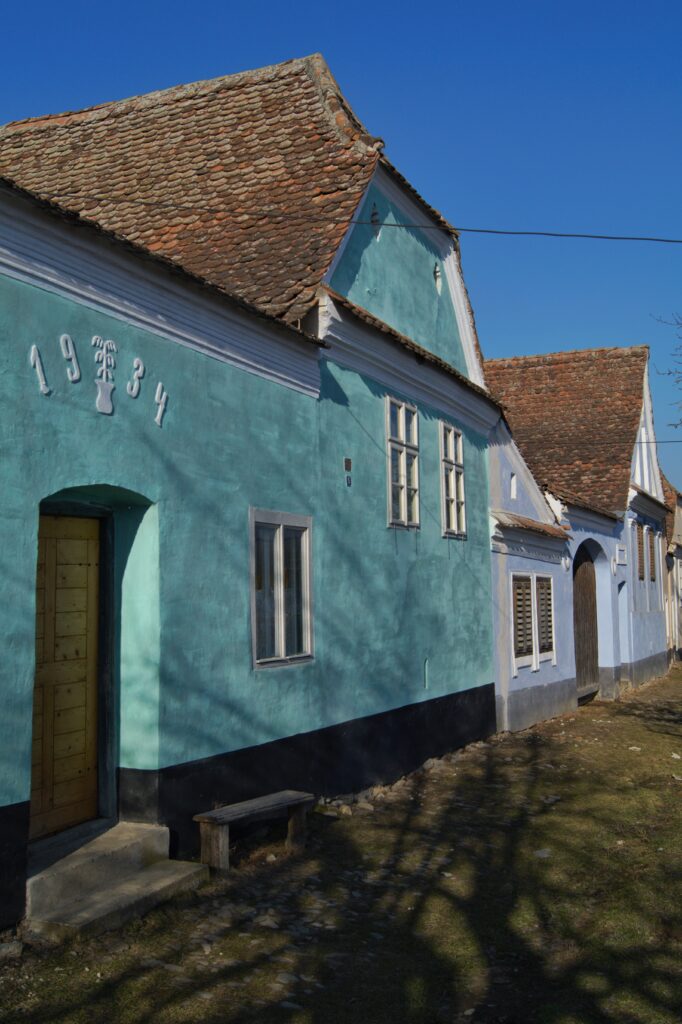 Of this group, Viscri is the most popular village thanks to HRH Prince Charles who even bought a house here. It's definitely worth visiting if you want to explore Transylvania's authentic charm and unique rural life. Don't fall into the trap of just snapping a few pictures and moving on. I hope that by now, you know that Transylvania is so much more than that, so take the time to interact with all the friendly locals and explore their traditions.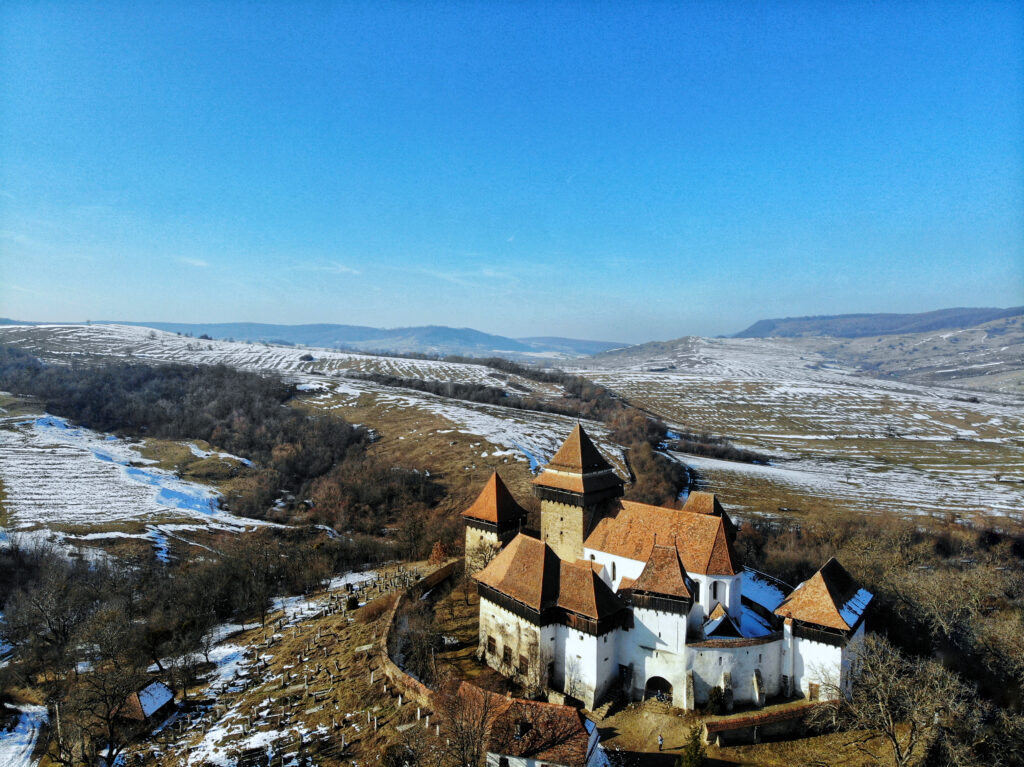 Tip No 11: The Perfect Base in Transylvania – Brasov
Surrounded by the Carpathian Mountains, Brasov can be your perfect base for your next stops in Transylvania. Just to name a few, it's easy to get to ski resorts (such as Poiana Brasov and Predeal), visit Bran Castle, Peles Castle and Rasnov Fortress. Brasov's history dates back to the 13th century, so it's full with cultural sights and historic attractions. It's also where the first Romanian school was opened. Overall, the city has such a charming and well-preserved medieval architecture that stays loyal to its past.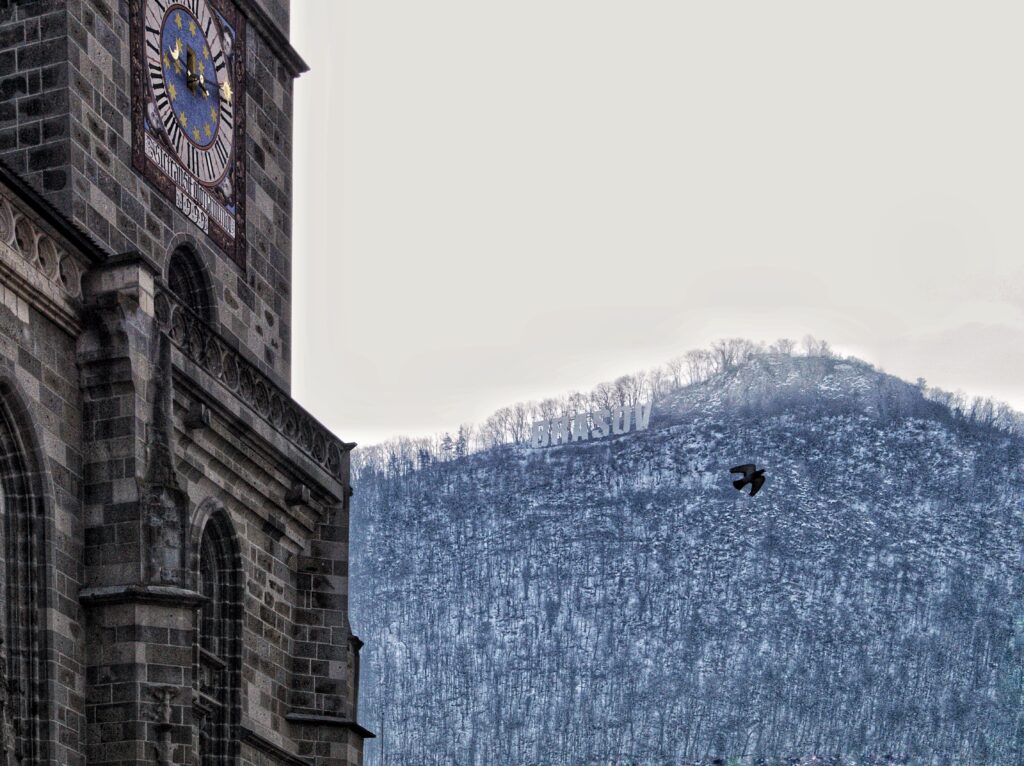 Where to Stay
Drachenhaus Urban Village is right in the historical centre of Brasov and can be a perfect option both for those on a tight budget and those who don't mind spending a bit more for the extra comfort. Whether you choose a barrels or a hotel room, you'll receive an excellent service and it'll be the perfect quiet place to rest after a long day travelling.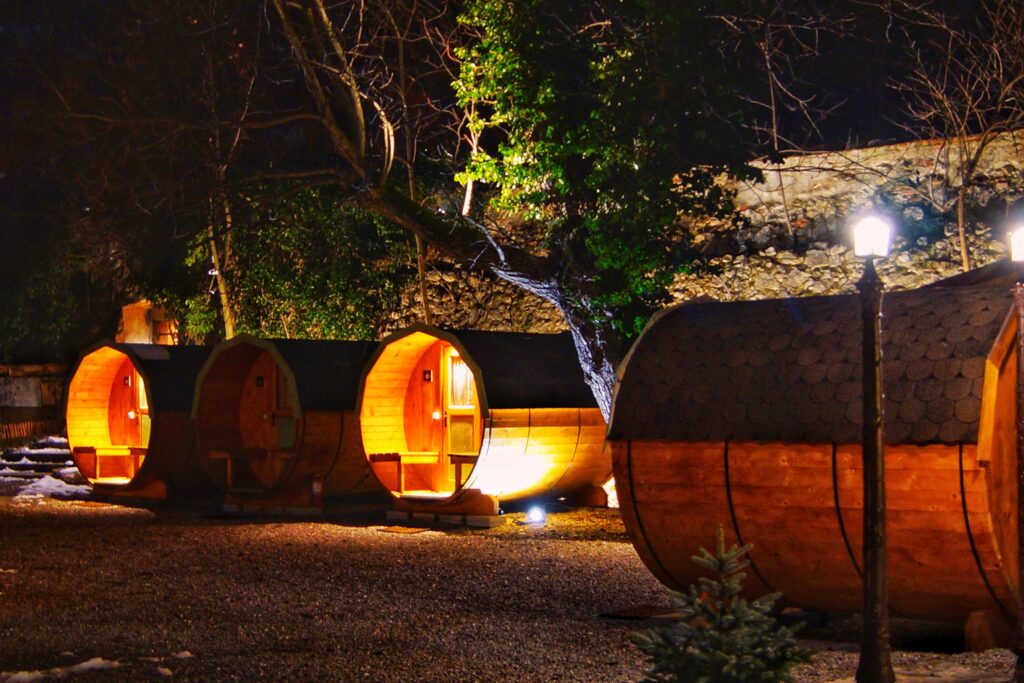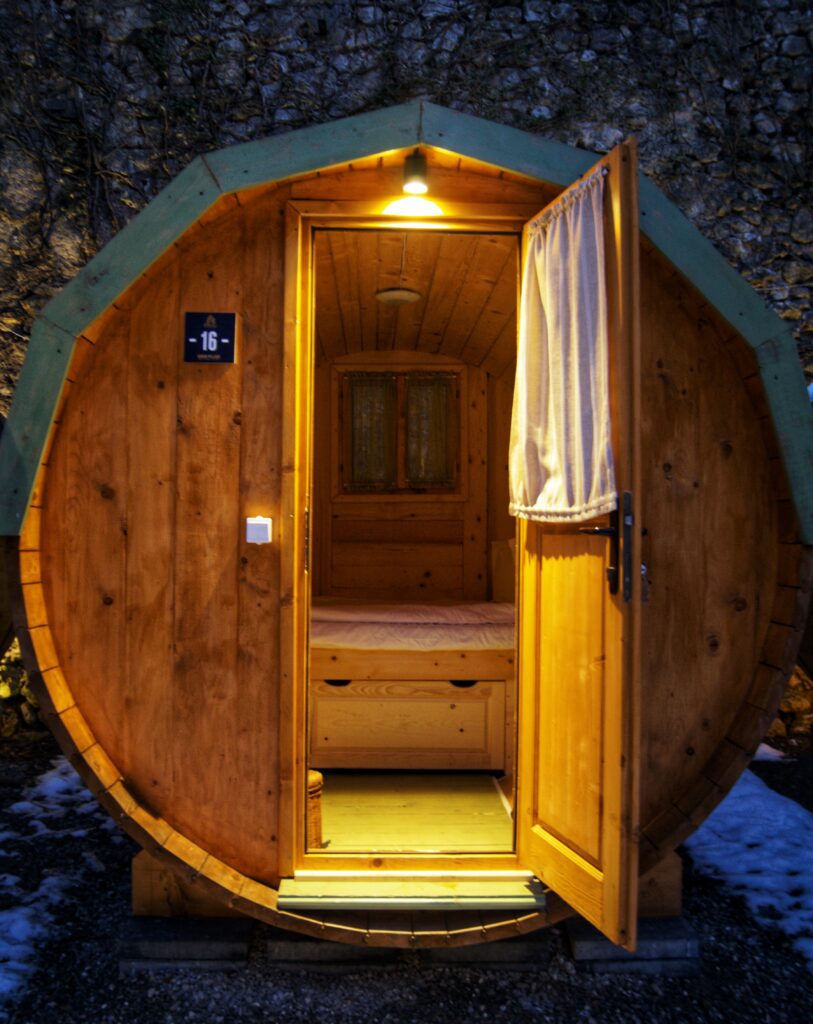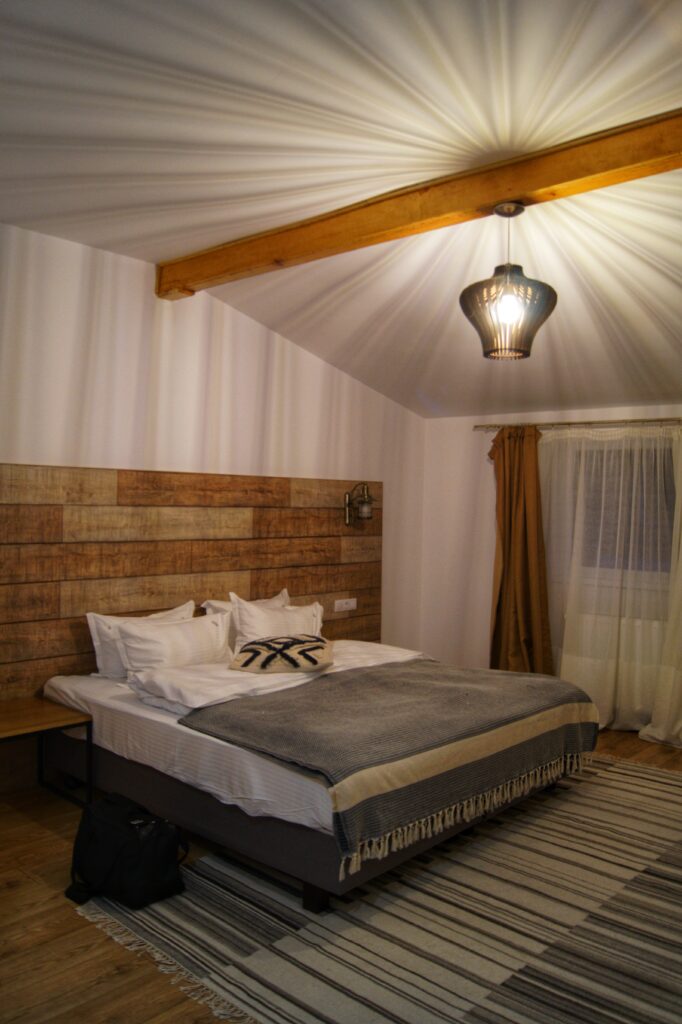 What to See
The Old Square
The Old Square is the heart of Brasov's Old Town. Just like all medieval squares, this used to be a place for public gatherings, trials and executions. Today, it's packed with cafes, restaurants and tourists admiring its breath-taking architecture. All the street performers, children running around and adults taking a stroll make it such a lively place.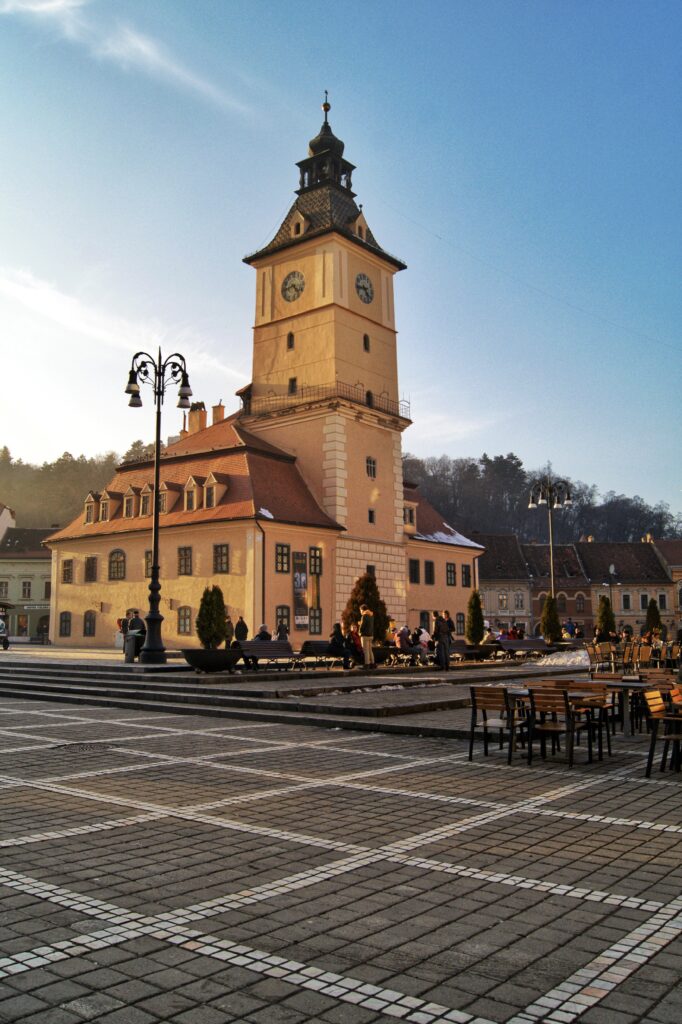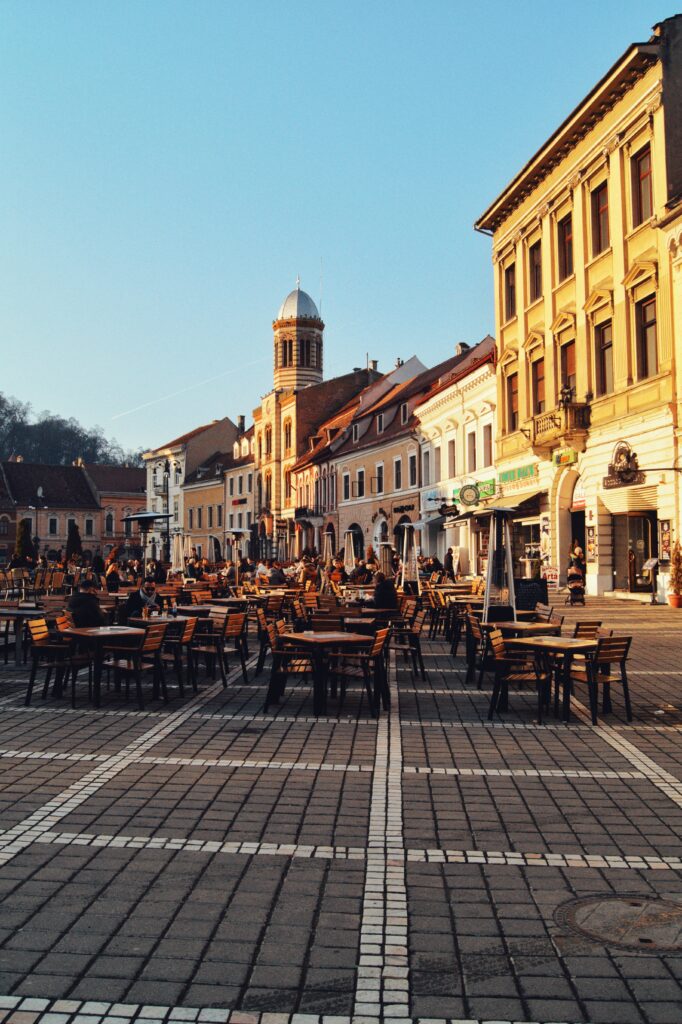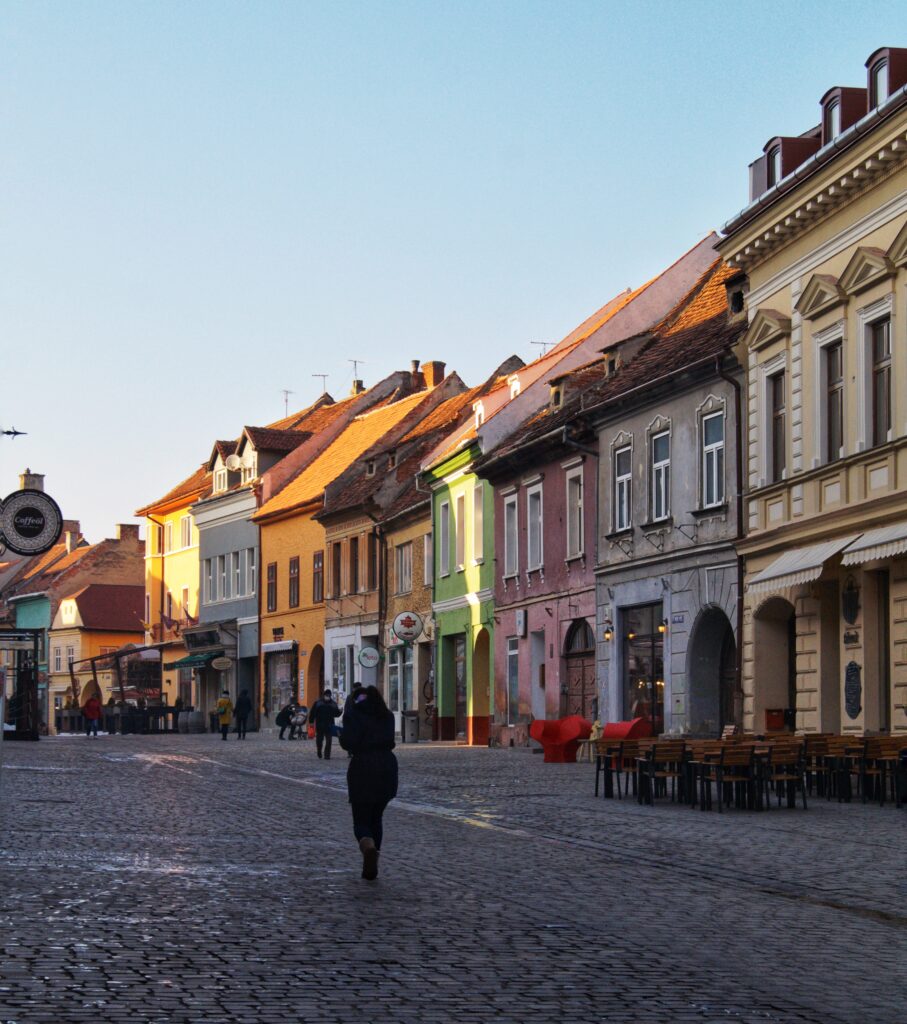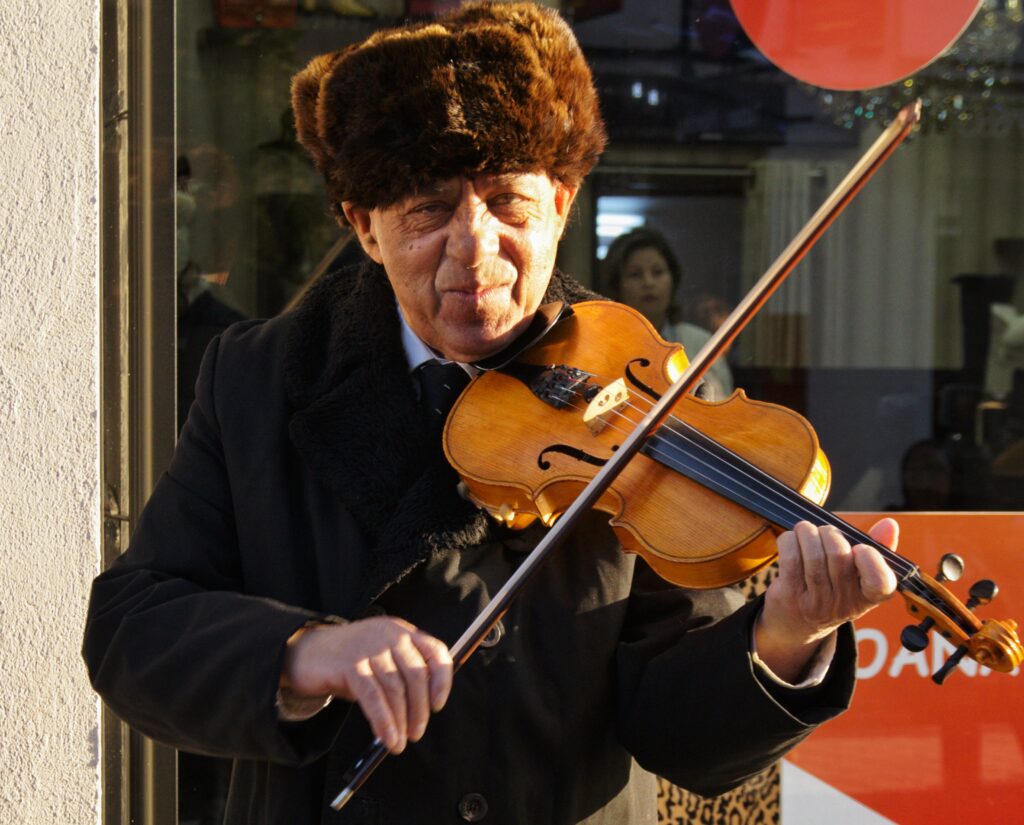 The Black Church
It's also one of the largest gothic churches in Eastern Europe and its construction dates back to the 14th century. It sits proudly and unmistakably imposing at the edge of the old square. It survived both the Protestant Reformation and the violent attacks of the Ottoman and Tatar armies. But sadly, the worst came in 1689 when it was destroyed by a devastating fire. Only the walls, the font, and the treasury from the vestry survived, hence why its name: The Black Church. Inside, it has the biggest mechanical organ in the country and the largest collection of Oriental carpets outside Turkey.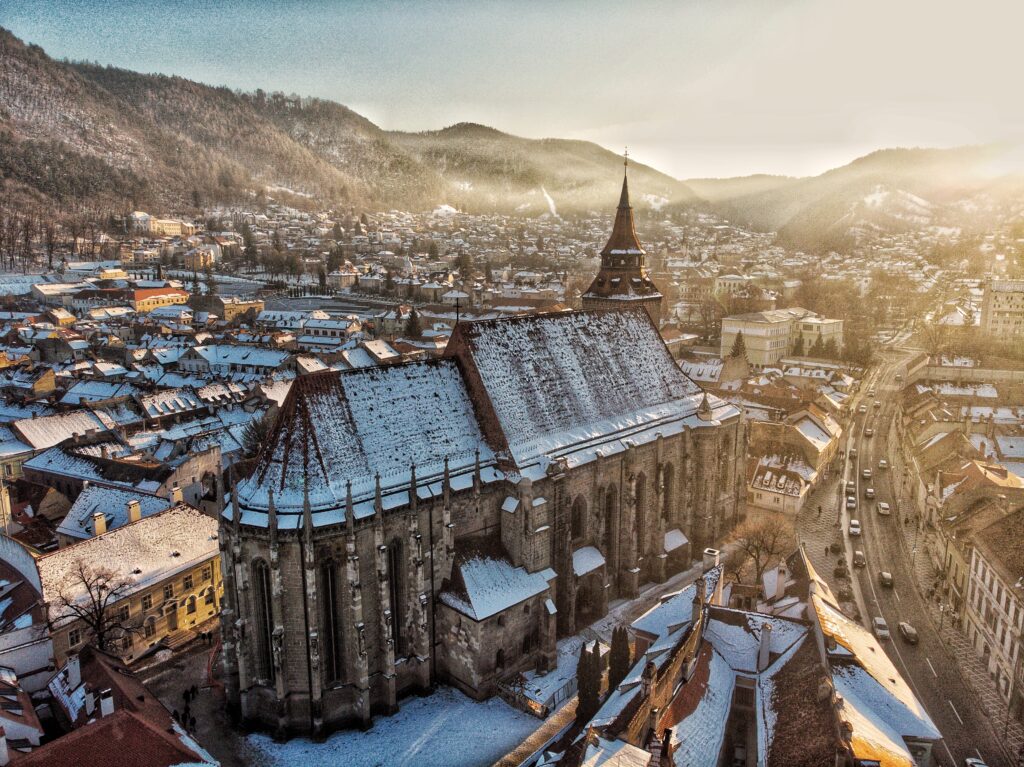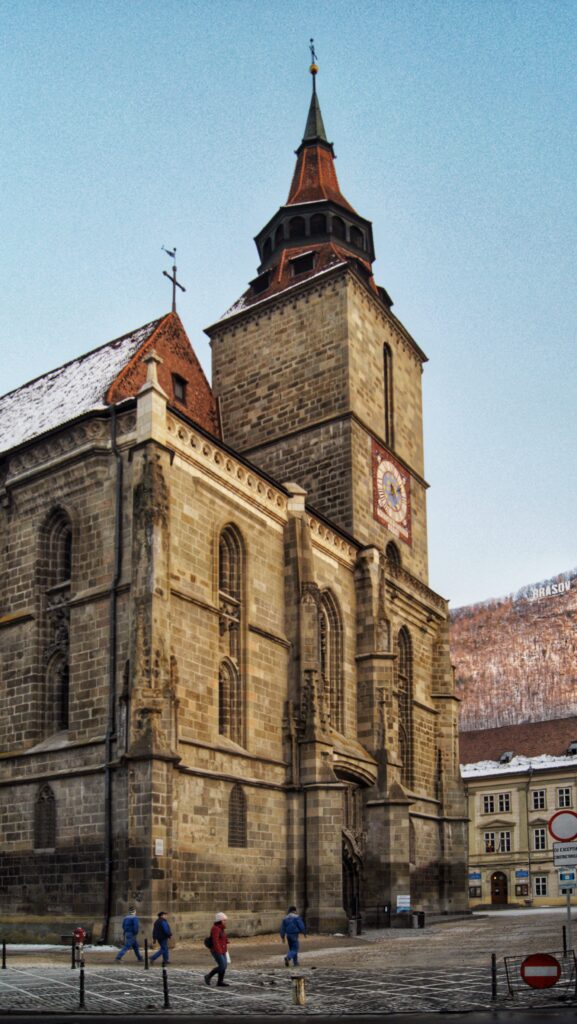 Mount Tampa
As you'll be walking around the city you'll notice a massive Hollywood-style sign perched high up on a mountain overlooking the entire area. Going there is a must – you'll be rewarded with the best views over Brasov, the Carpathians and the plains of Transylvania! You can reach Tampa Mountain if you do a 1-hour hike or if you go on a cable car ride.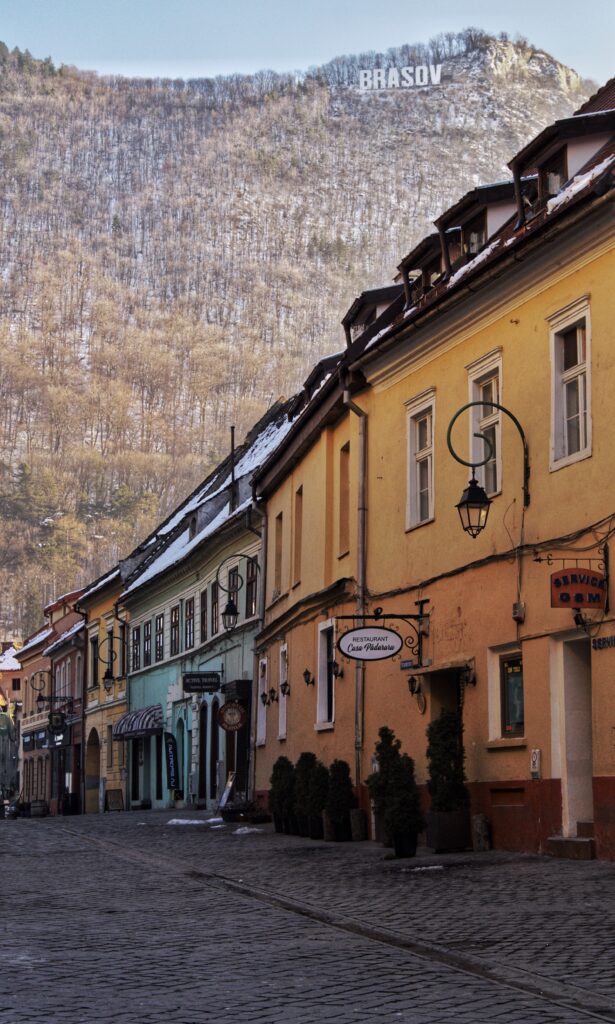 Rope Street
Finally, you can find the narrowest street in Europe, called Rope Street (Strada Sforii), and which is only 53-inches at its widest and 44-inches at its narrowest. If you think this is one of the useless streets, remember it was used by old-time firemen to avoid the packed streets in the city.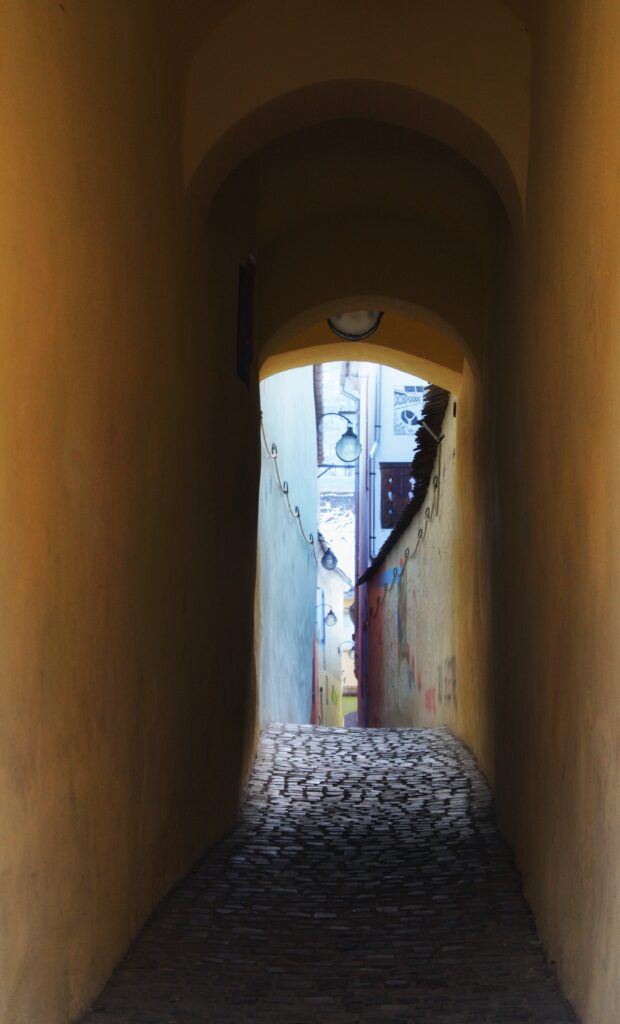 Transylvanian Food and Drinks
There are also plenty of food stalls around and my favourite thing to have here is Kürtőskalács (also known as chimney cake). However, going back to the Romanian-Hungarian tensions, be sensible over the long-running arguments about its origins. However, two things are fairly certain – that it is Transylvanian, and it is delicious.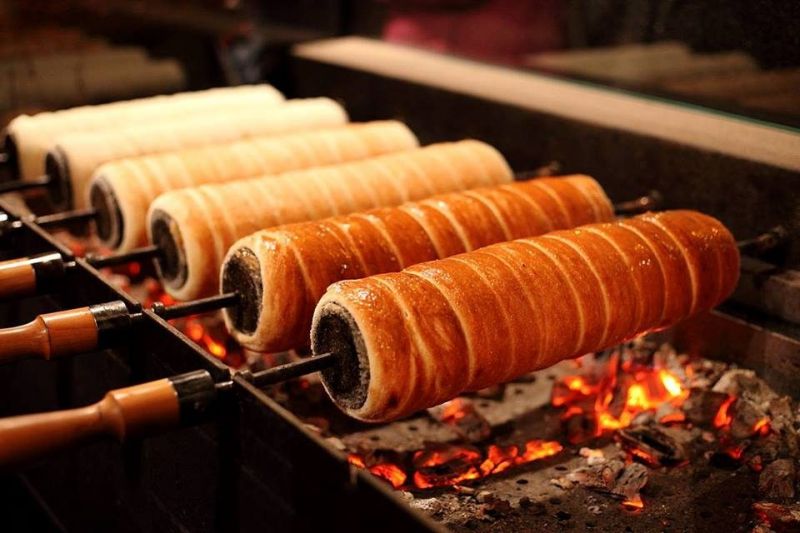 You might also want to try eating gulyás outdoors, which is a popular social event in Transylvania. It's one of the most famous Hungarian dishes and it gives people a reason to gather around the fire and prepare it in a large cauldron. It's essentially a stew made of meat (mostly pork) and vegetables (potato, onion, garlic, tomato, carrots, parsley roots). It's seasoned with plenty of paprika, which gives gulyás its distinctive deep brown/orange-stained hue.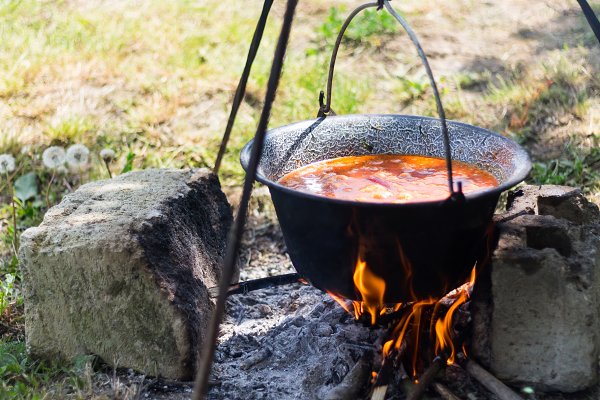 In terms of drinks, you should not refuse palinca. This is a traditional spirit, similar to Schnapps, and generally made from plums, but it can also be from other fruits. It's around 50% alcohol, so yeah, it is strong and firewater-like. Some consider it a great appetizer, so locals may offer you to drink it on an empty stomach. Although you'll find it in restaurants and stores, I encourage you to ask around for some homemade one. Unlike other cultures, Romanians will not be offended if you show signs of discomfort when drinking it. Without being able to offer a logical explanation for this, they all seem rather flattered that it's a strong production, suitable for the local connoisseurs.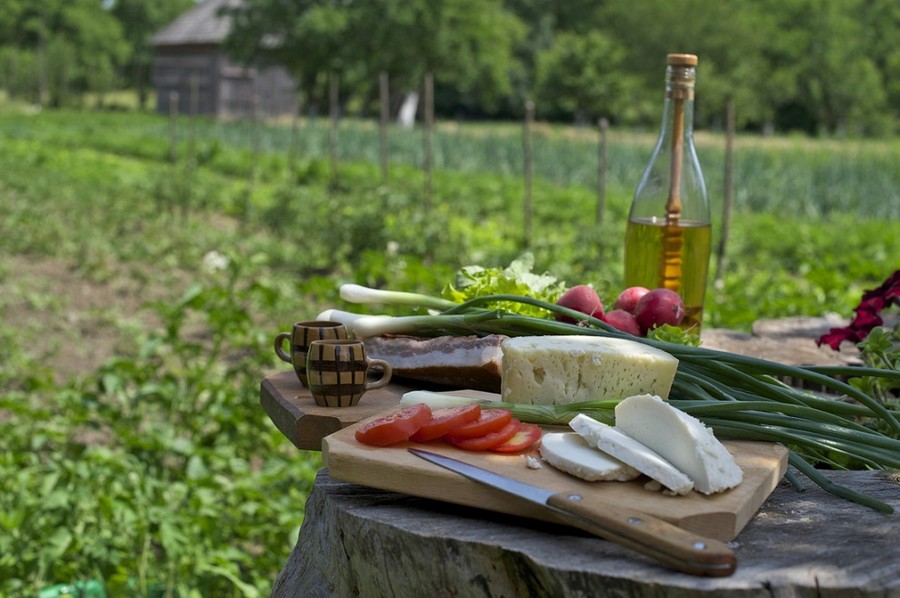 Tip No 12: Peles Castle
Peles Castle may be considered the most important historic edifices in Romania, and one of the most important monuments of its kind in Europe from the second half of the 19th century. Shortly after Romania was proclaimed an independent and sovereign nation, Carol I became the first King of Romania. Peles Castle is a fairy-tale built for him in 1875 as his summer retreat. Its construction came with some revolutionary ideas for its time. It became the first castle in Europe fully powered by locally produced energy, having a complete electric system and central heating. With approximately 160 rooms, there's even a hall that was converted into a cinema back in 1906.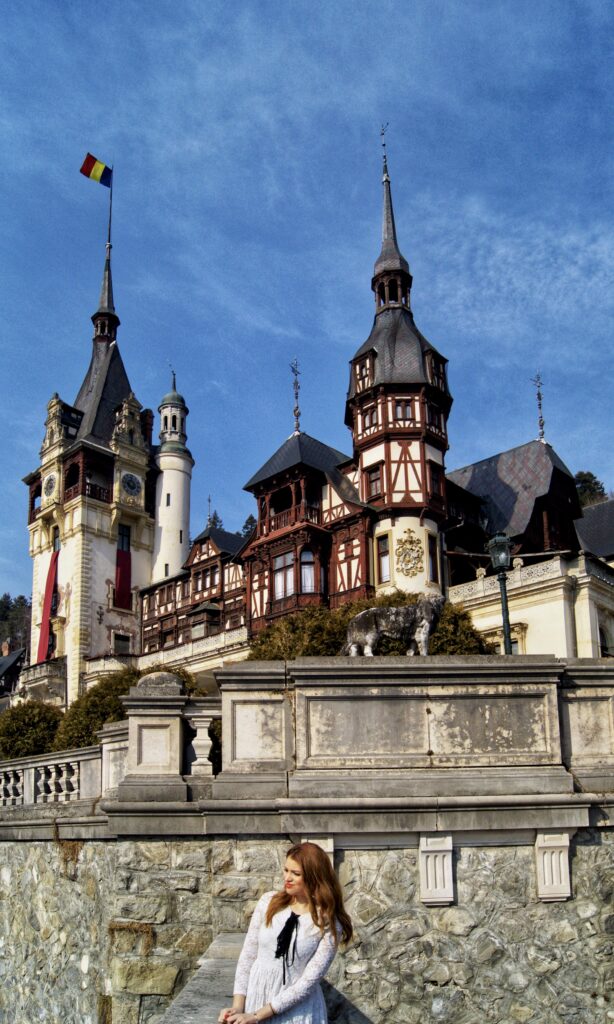 The Royal Library attracts many enthusiasts who appreciate rare and even for those less familiar with the world of books, there is a great attraction: the secret passageway but I will let you find it. Other attractions include the Weapon Hall, the music room, and the Hall of Honour. The latter impresses with its mobile glass ceiling and walnut wood crafting.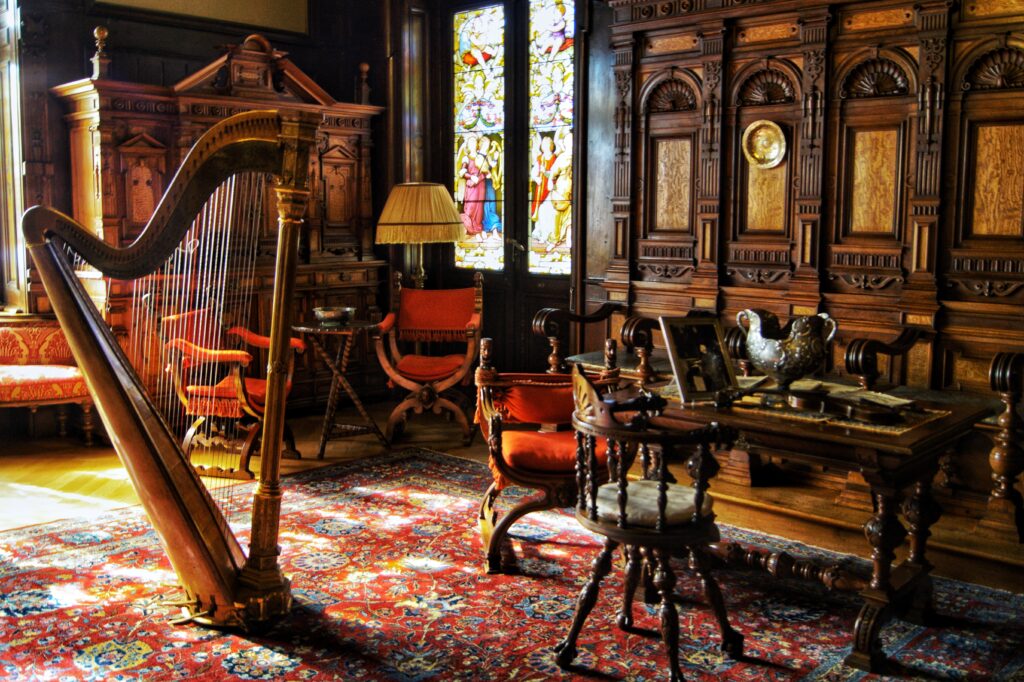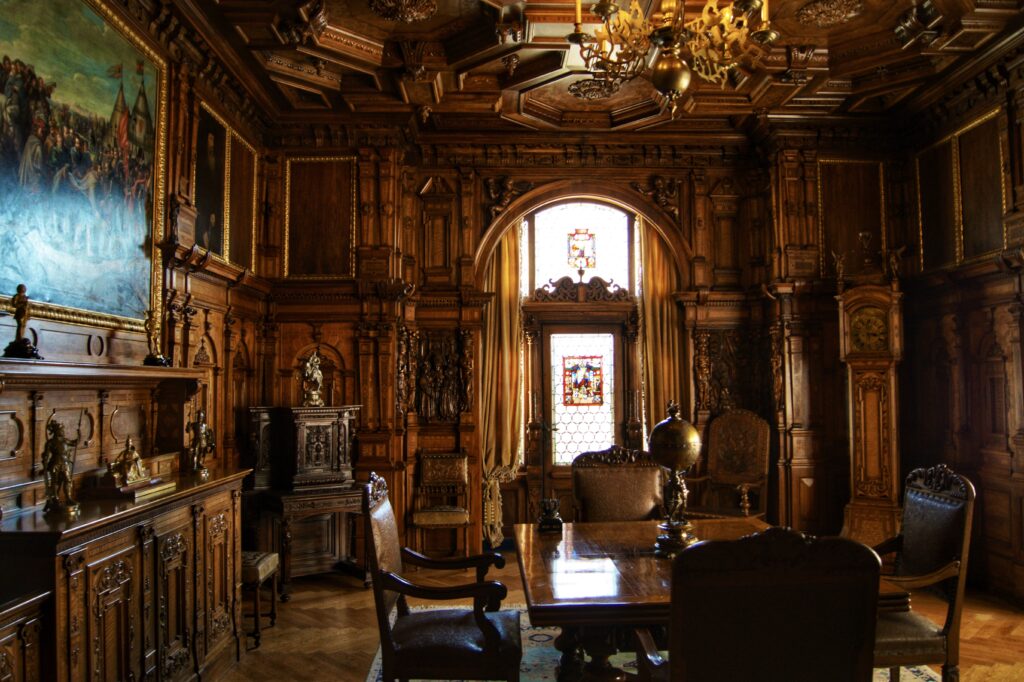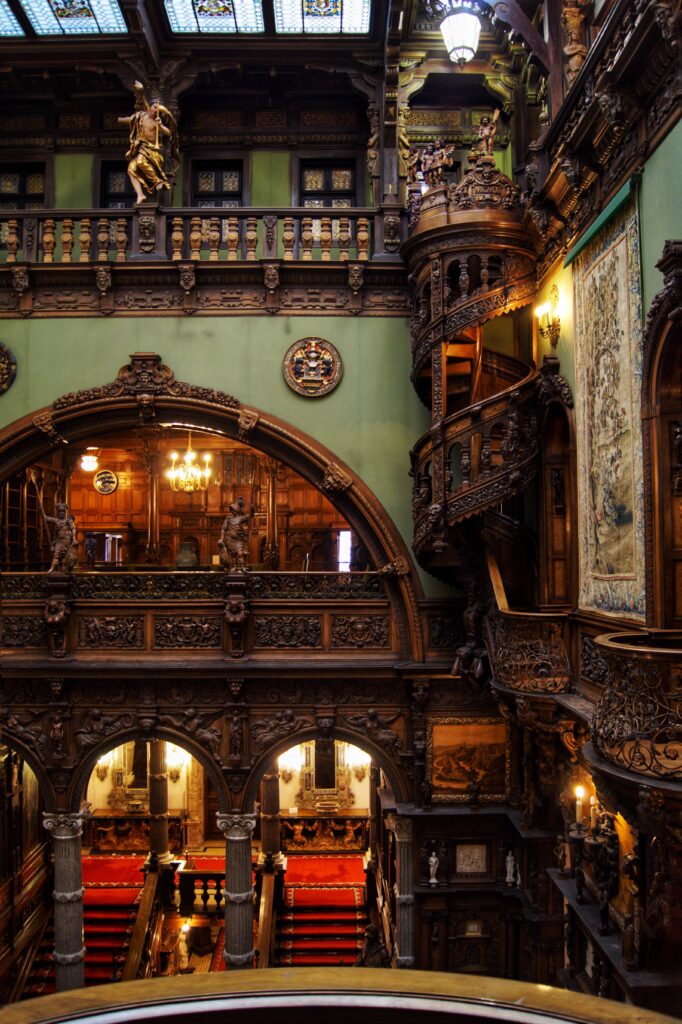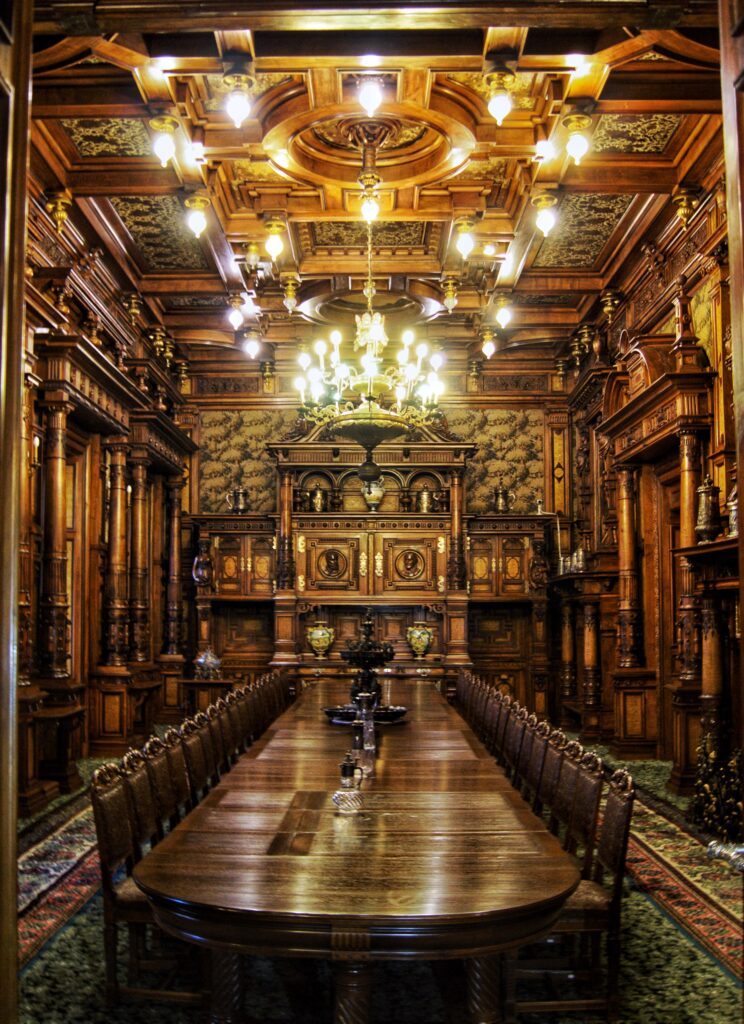 Tip No 13: The Infamous Idea of Transylvania – Dracula and Bran Castle
Now it's time to finally go on what's probably been on everyone's list: "Dracula's Castle". I think I should start by explaining that Bran Castle earned its popularity thanks to Bram Stoker's "Dracula" novel and the 1992 Hollywood movie. Although Vlad Tepes has nothing to do with a vampire, the castle is truly impressive even without the added fantasy. Bran Castle was built around 700 years ago as a strategic fortress to defend the valley. It sits on a mountain ridge in dramatic landscapes and has a fascinating history of its own.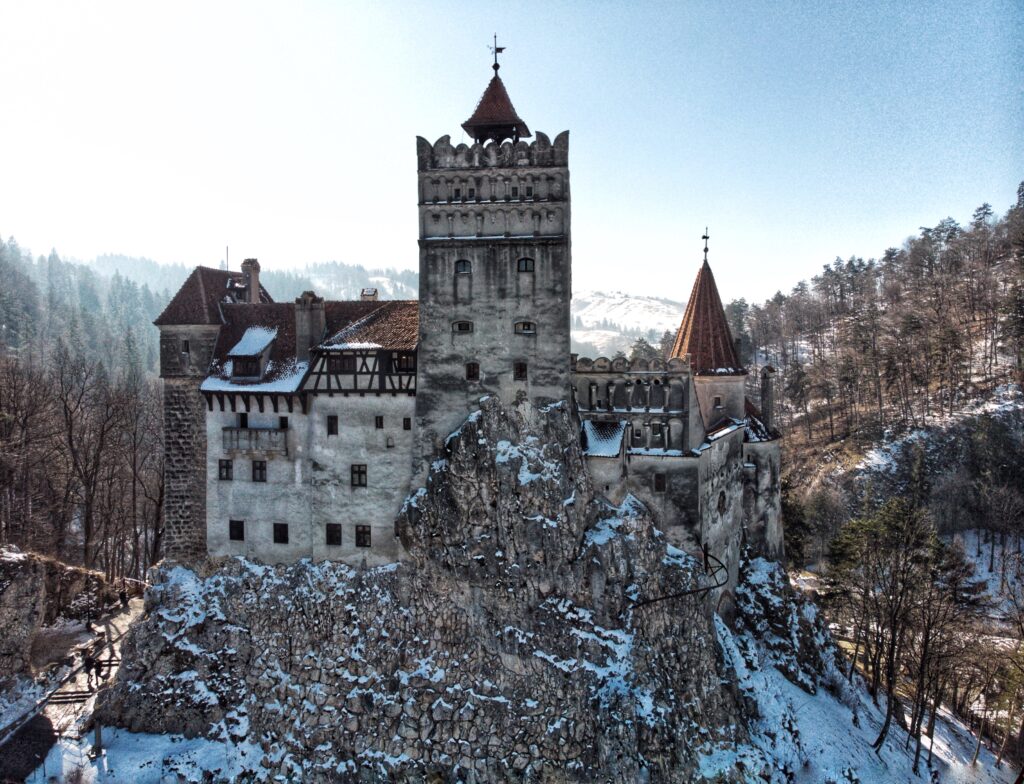 Tip No 14: Rasnov Citadel
Râşnov is a medieval citadel built by Teutonic knights to guard against Tatar and Turkish invasion. It's common to pair it with Bran Castle on day trips from Brasov. Visitors are free to stroll between sturdy watchtowers and enjoy fantastic views of rolling hills from the fortress' highest point.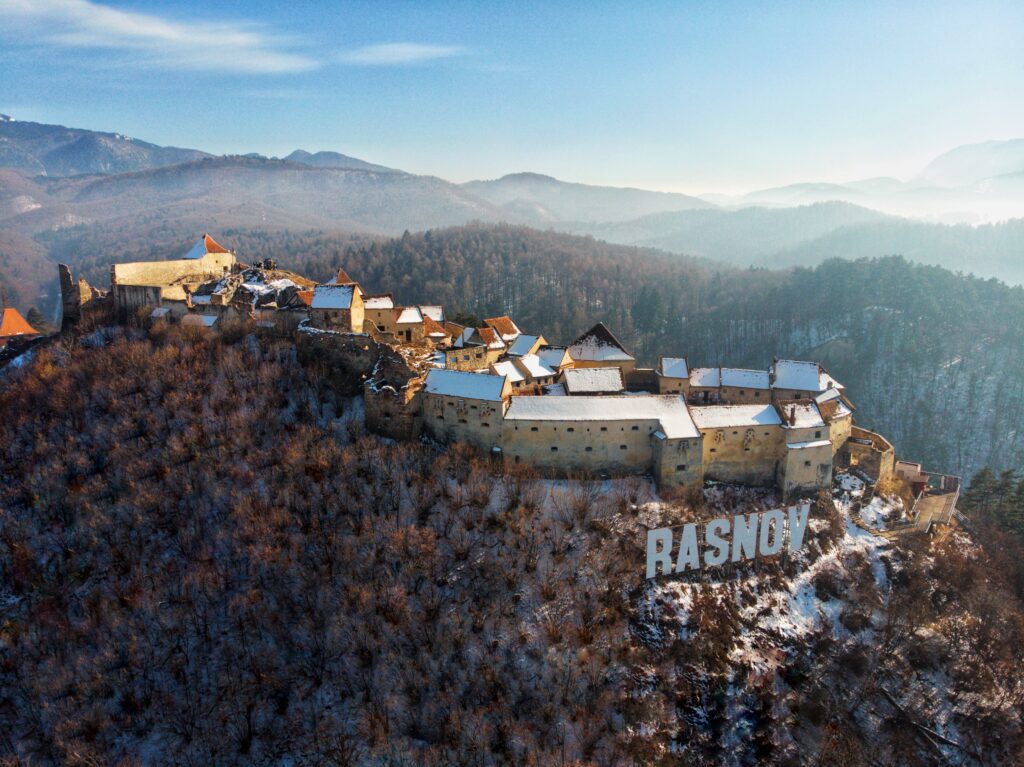 If you've got this far, what are you waiting for?! Just book those flight tickets and you won't regret it! I have no doubts you'll fall in love with Romanian's mountains, medieval towns, delicious food, generous and welcoming people. If you've already been here, I can't wait to hear your impressions. If you're just planning your trip, feel free to drop me a message for more information. Until next time, I've left a piece of my heart and soul here.