Of course, you can't "do" a country in 10 days, but you can definitely see a lot if planned carefully. So we're glad to share with you the #PackmanApproved route for Morocco. To be easier to follow, we'll break it down in few different posts, starting with Rabat, Casablanca and Marrakesh. I would say it's definitely an active route, so if that's what you're looking for, prepare for 10 hectic days!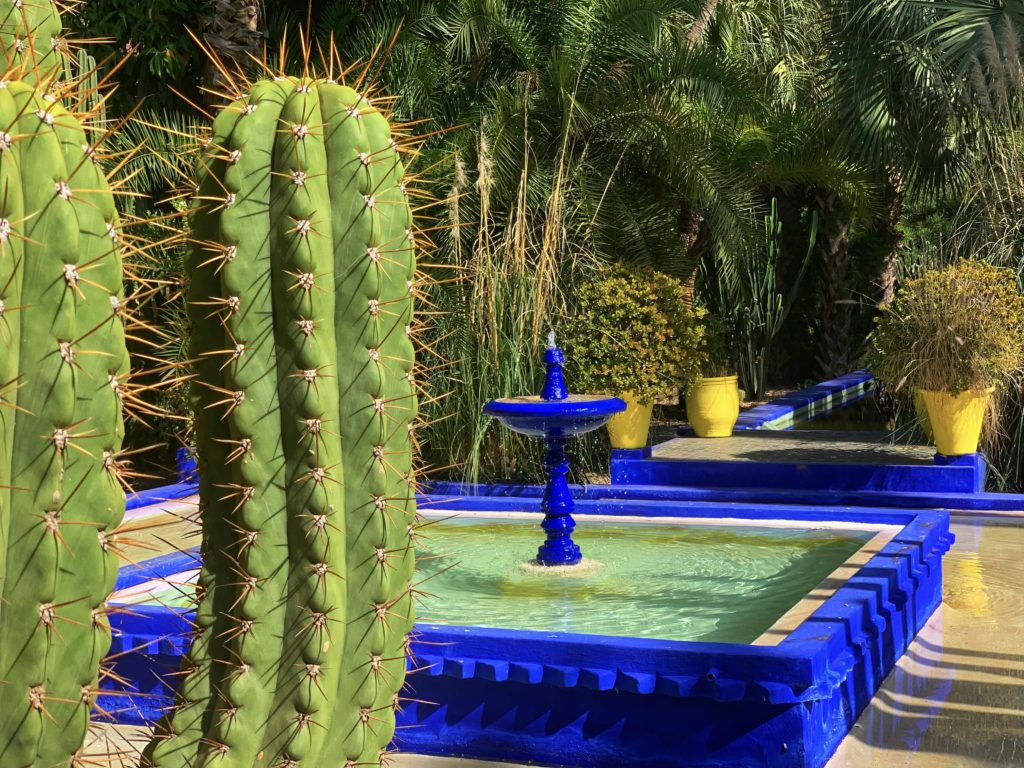 From mountains to desert, cities, and tiny blue villages– there really is something in Morocco for everyone to enjoy. Architecture lovers will marvel at the intricate tile work and stunning madrasas. Shoppers will spend hours haggling and trying to find the next best shop in the medina. Adventure seekers will want to book it out of the city and hop on a camel straight into the Sahara. Foodies will bask in the potent aromas of tagine and spices almost as much as the actual taste of them. Photography nerds? Well, they'll just geek out over the beauty of it all. And what about those that just want to recharge on their vacation? Don't worry, there's plenty for them to do (or rather, not do) too. Moroccan spas are world-renowned and offer the ultimate experience in relaxation.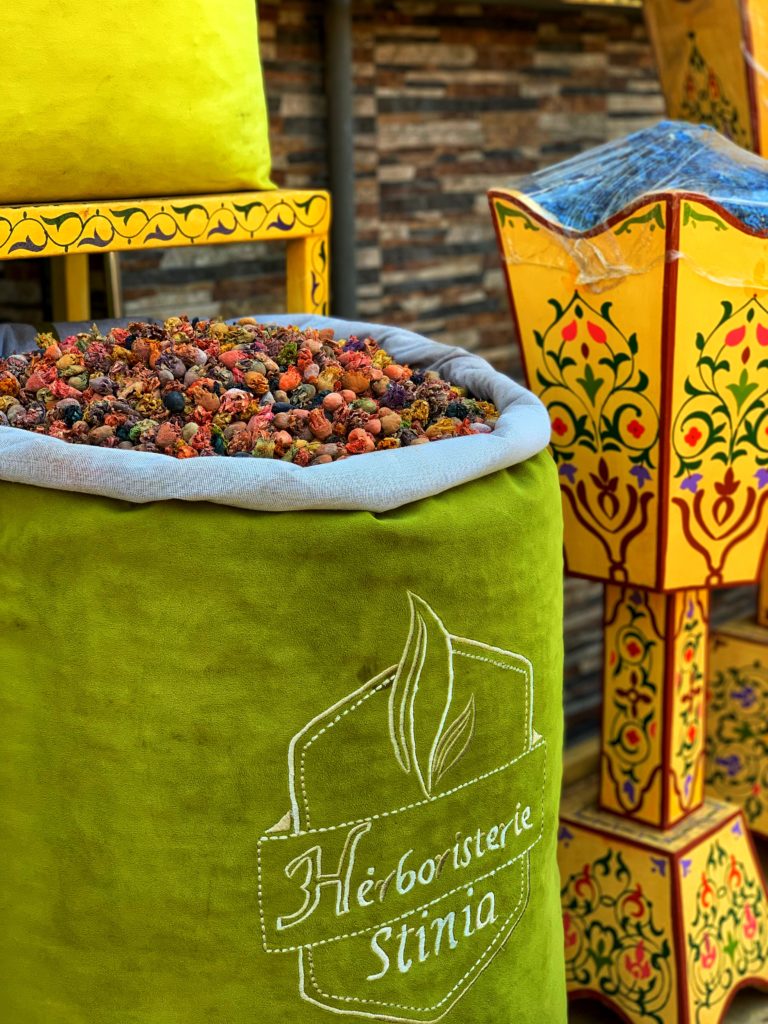 Day 1- Getting to Morocco
For this itinerary, we'll fly into Rabat and out of Fes. For more details on why we chose this route, our packing tips, vaccines requirements and much more, check our previous blog post, where we cover the most common questions. We found some flight tickets to Rabat which were considerably cheaper and it's the perfect starting point for our trip especially as we want to stop in Casablanca.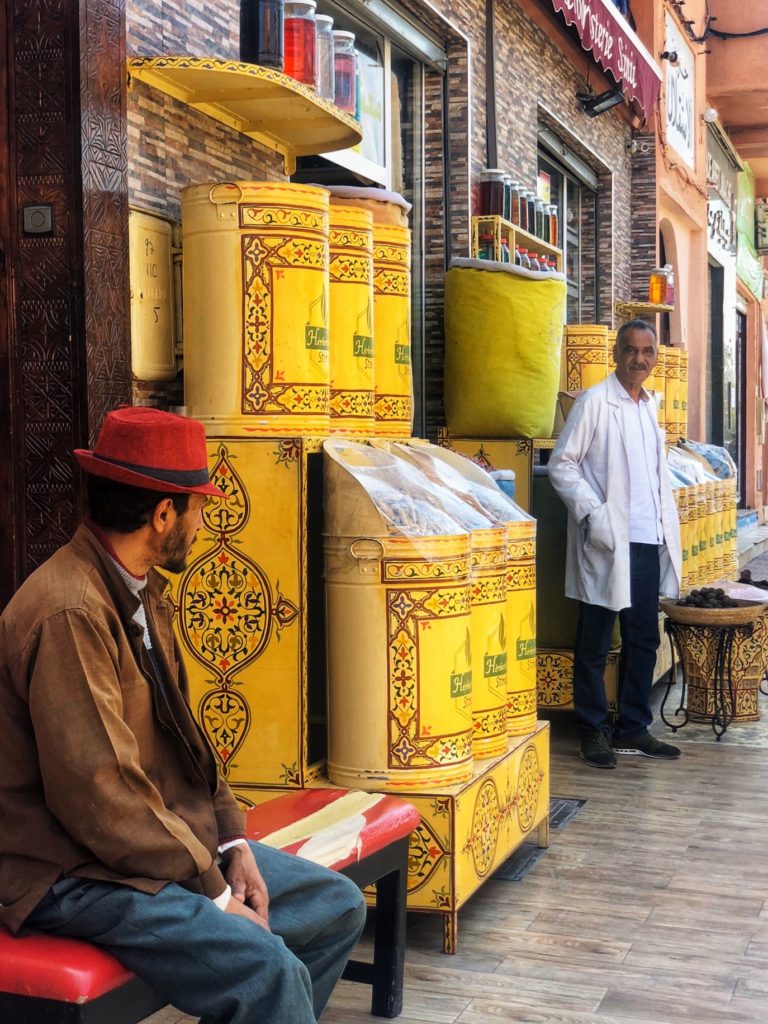 Day 2- Visit Rabat and Casablanca
Welcome to Morocco's west coast! I hope you're ready for a full day, so let's pick up where we've left off: Rabat. Although the capital, we don't recommend spending too much time in here. So we'll help you narrow it down to these 2 stops: Kasbah of the Udayas and The Hassan Tower, both having the World Heritage Status.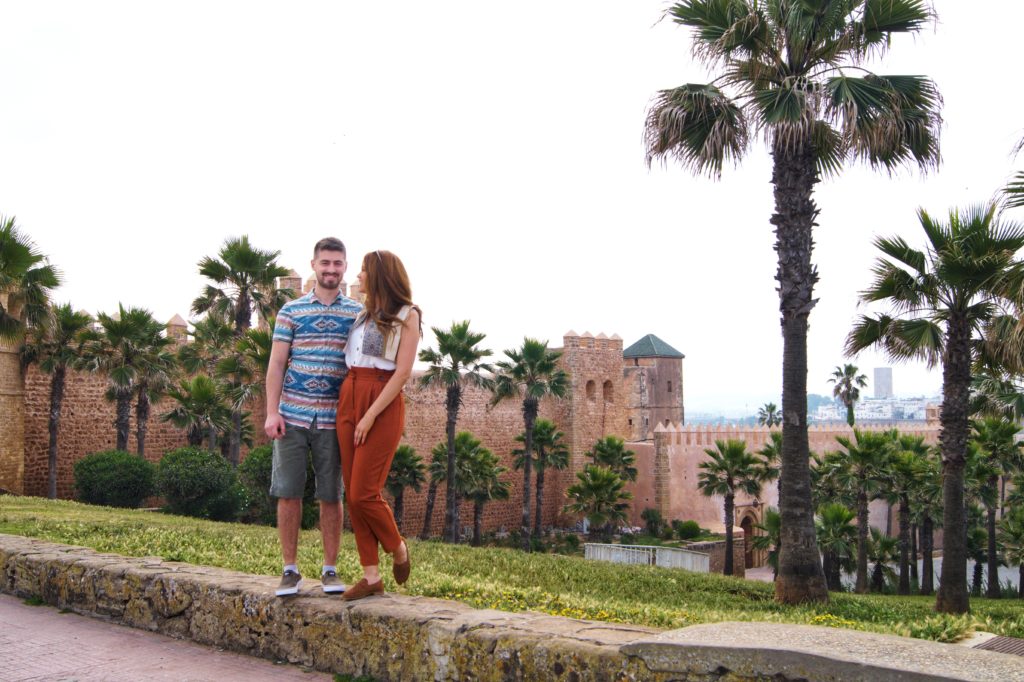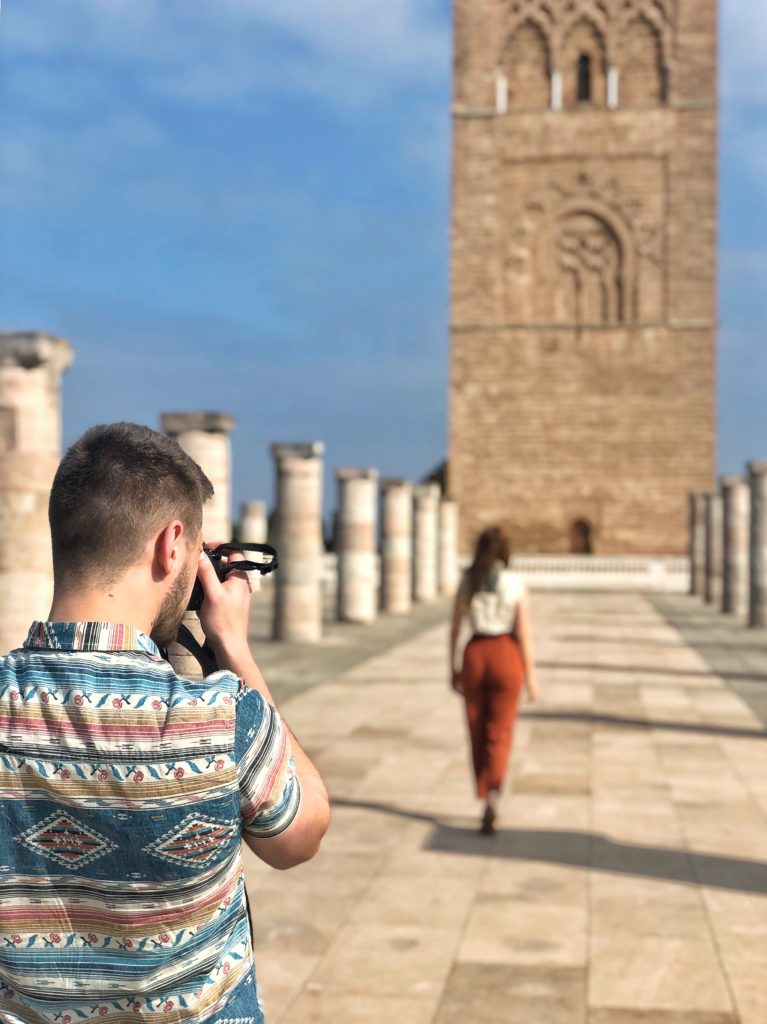 Next stop: Casablanca, which thanks to the 1943 movie by the same name doesn't need further ado. Many people come here and have a romantic version of what Casablanca must have been. However, the reality is that Casablanca's portrayal in the film was merely a Hollywood construct and has very little to do with historical reality. There was never a Rick's Cafe in Casablanca, so just remember that this is a mere replica. We can't share our personal experience as we decided not to add it as a stop.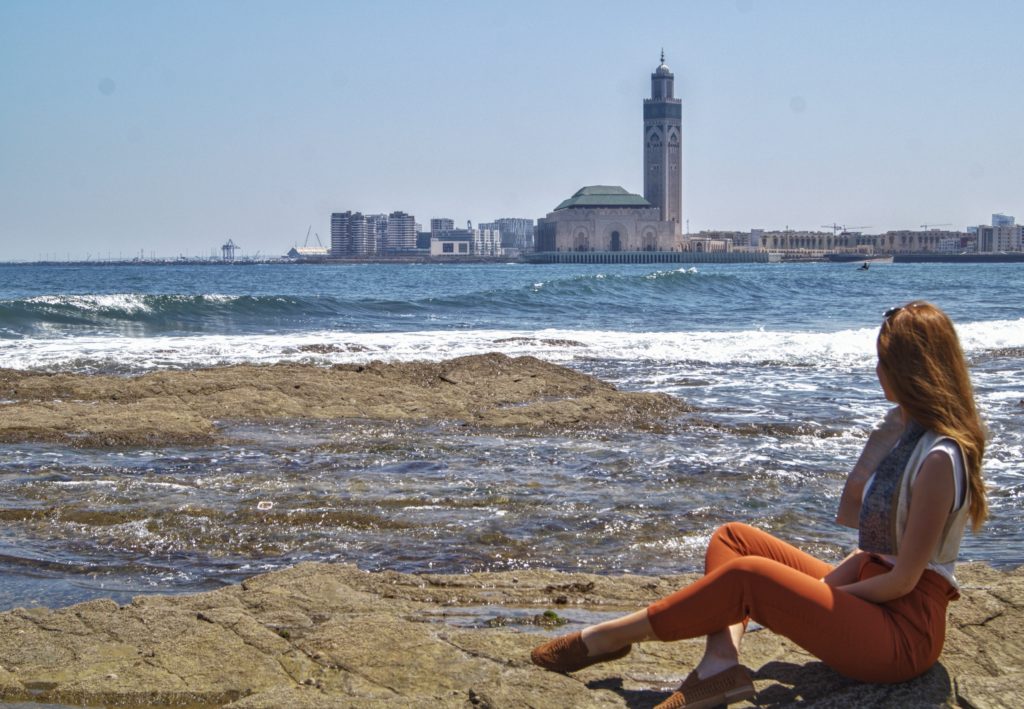 The largest city in Morocco, Casablanca is a modern city with major French influence. An architectural treat, you should definitely not miss the Hassan II Mosque, which is the largest mosque in Africa and the 5th largest in the world. The mosque stands on a promontory looking out to the Atlantic Ocean and can gather a maximum of 105,000 worshippers for prayers. It's the only Mosque in Morocco open to non-Muslims, so you may also want to see its interior. Keep in mind that this is only possible with a guided tour, so check the entrance fee and what times they run. Feast your eyes on the intricate marble work, wood and stone carving.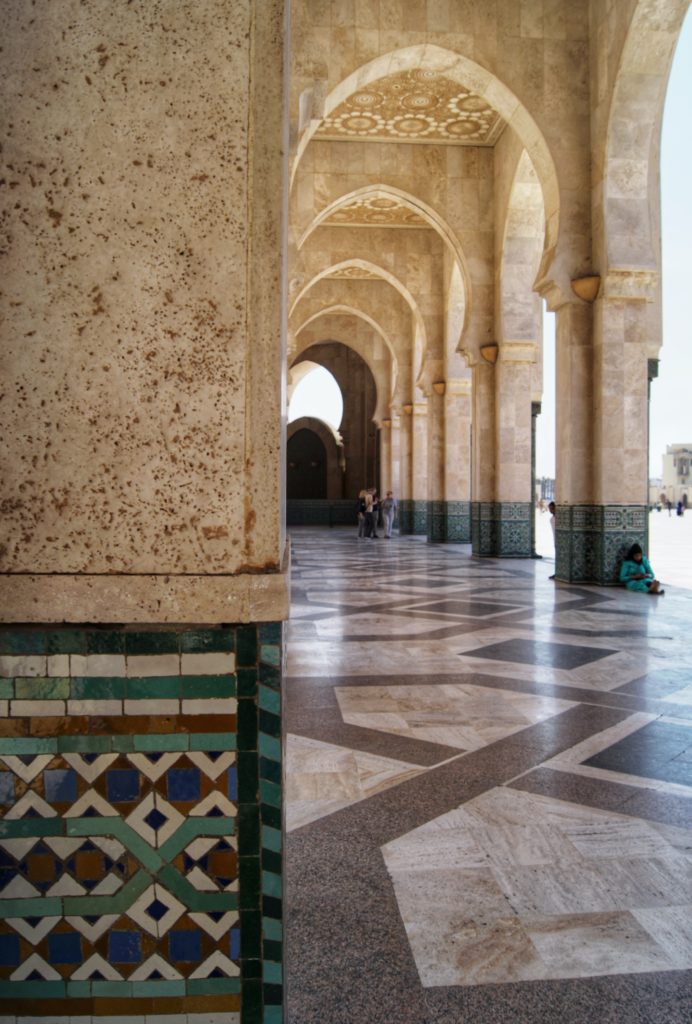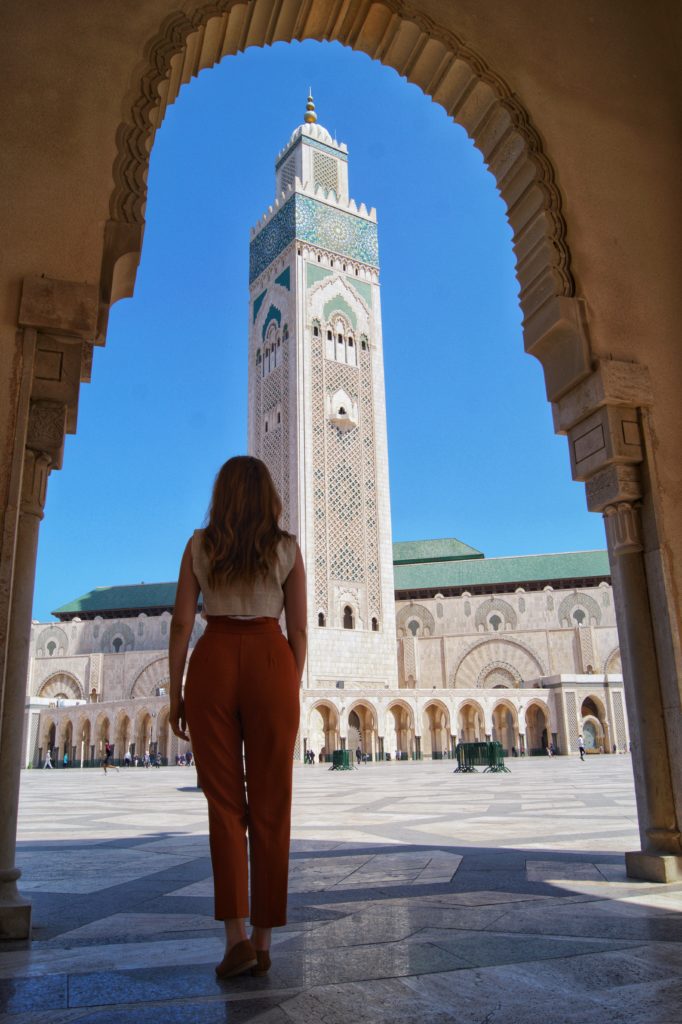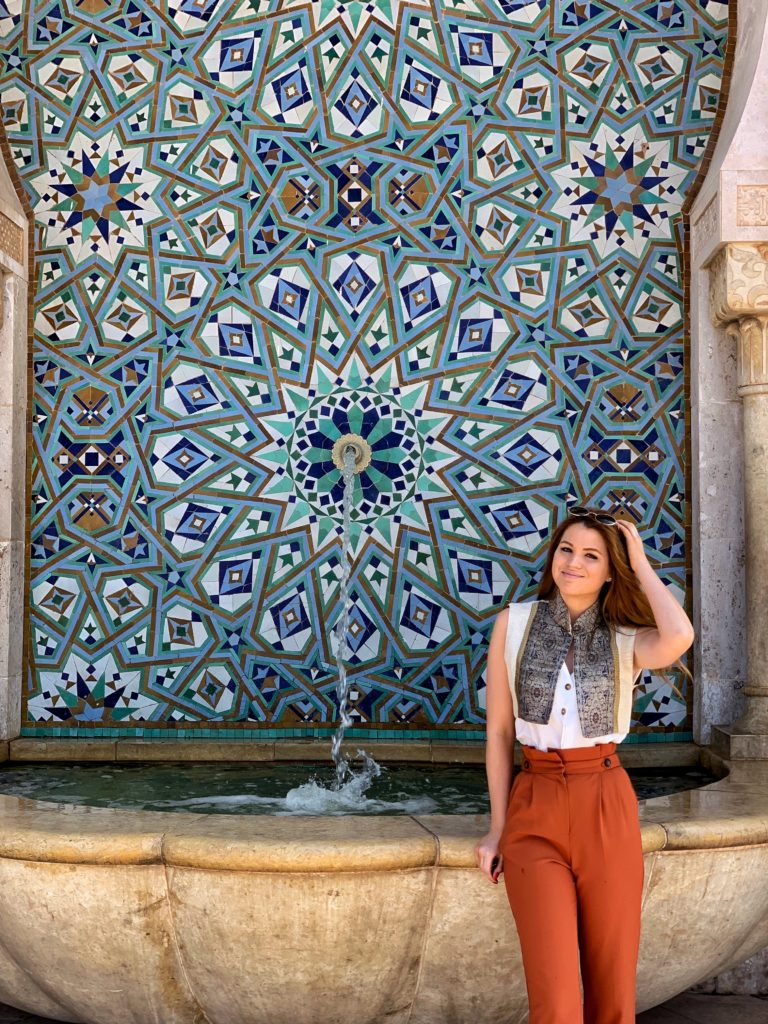 Day 3 and 4- Explore Marrakesh
Full of character, you can spend a whole week in Marrakesh and it would deserve a separate blog post on its own. However, we'll now stick to pointing out the must-does for a 2-day stay. Needless to say they'll be packed, but you can obviously set your own rhythm; these will be simply our suggestions. The hop-on-hop-off tours are a great way to get around Marrakesh and avoid any issues which may occur on a taxi ride. Except our trip to Jardin Majorelle, this was our main choice of transport.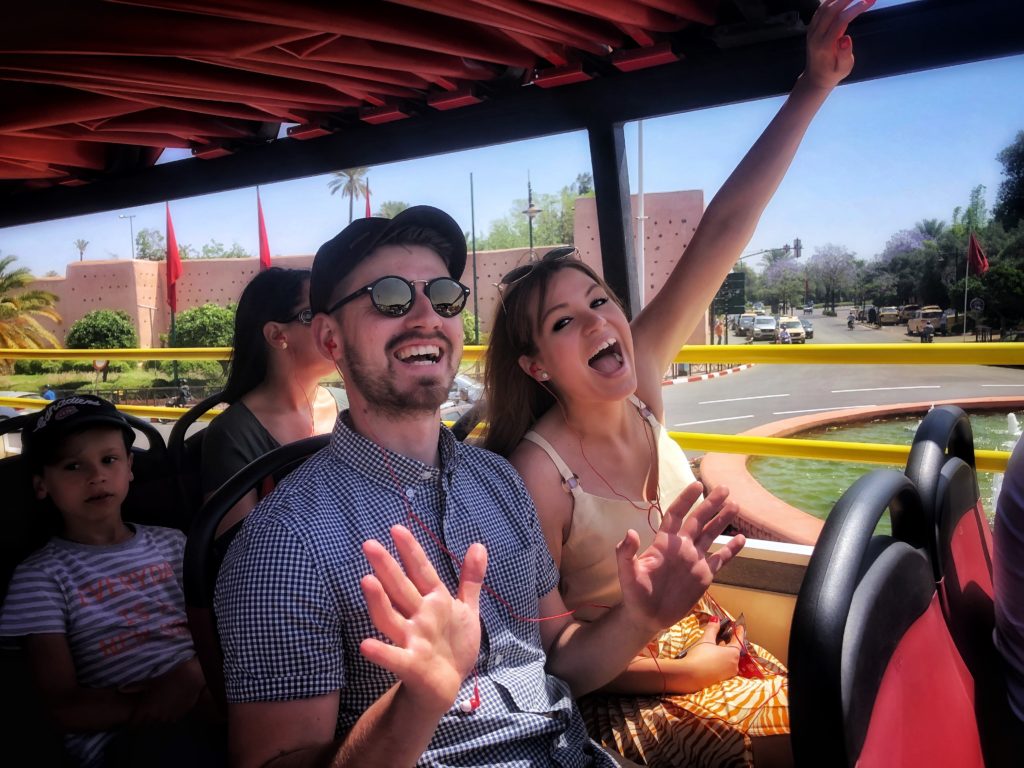 La Mamounia- Heaven on Earth
A constant award winning for the Best Hotel in the World and what was Winston Churchill's favourite place to stay in Marrakesh, La Mamounia's reputation precedes it. However, beyond the rich fabrics, Instagramable-tiled courtyards and pristine swimming pools, it's also an oasis of calm. When you wander through La Mamounia Hotel's 20-acre park with its fruit trees, tall palms and brightly coloured flowers (plus a bougainvillea wall), it is easy to forget you're in one of the world's most hectic cities.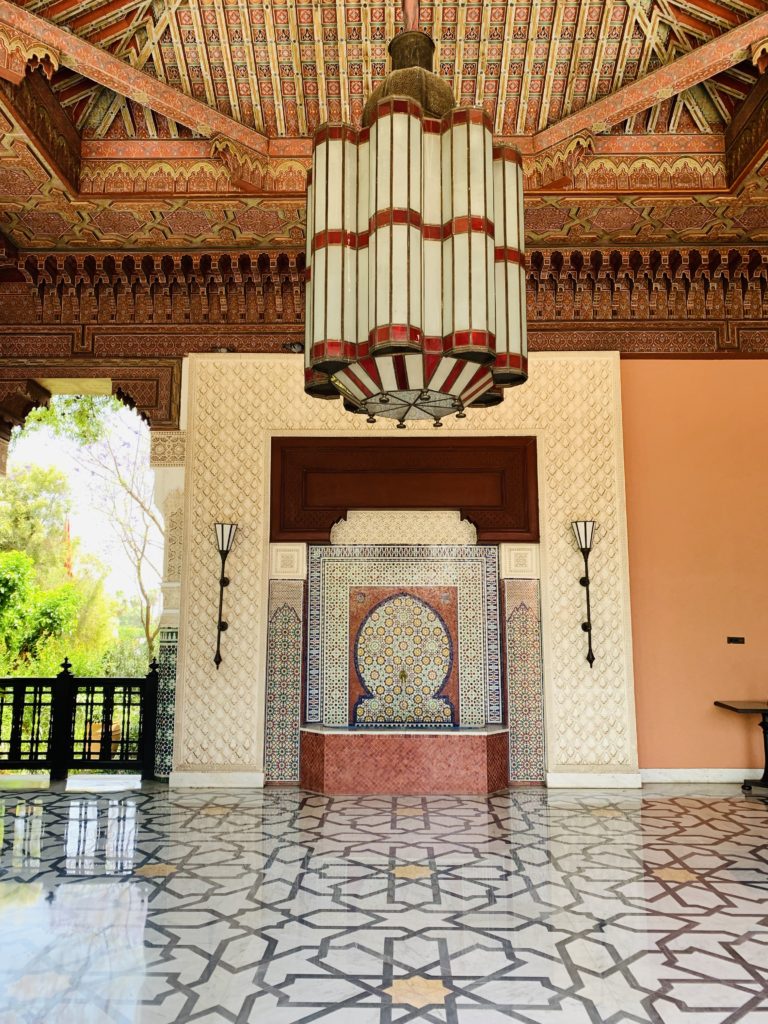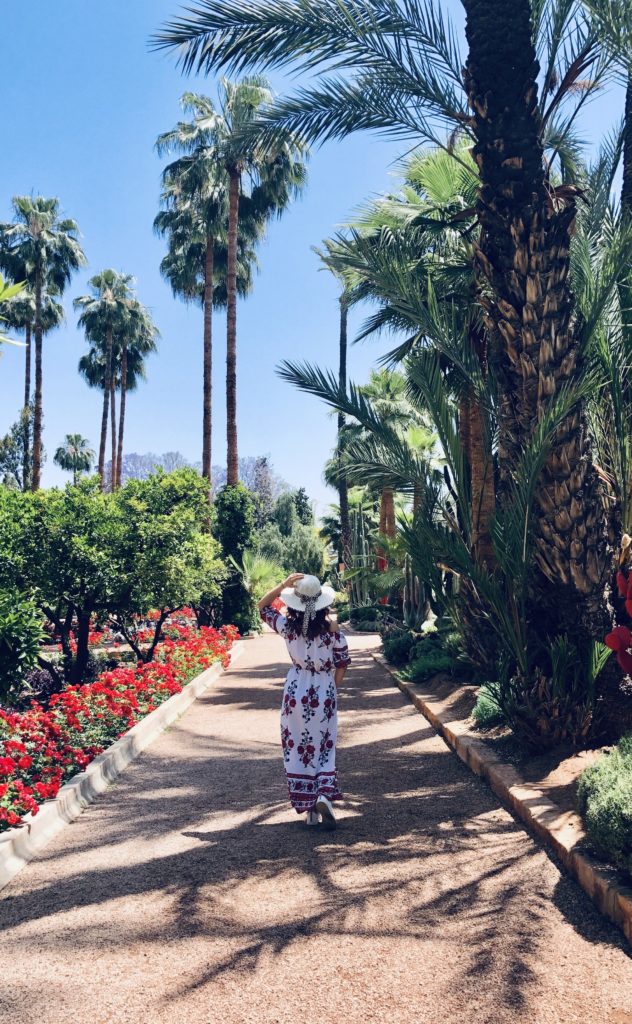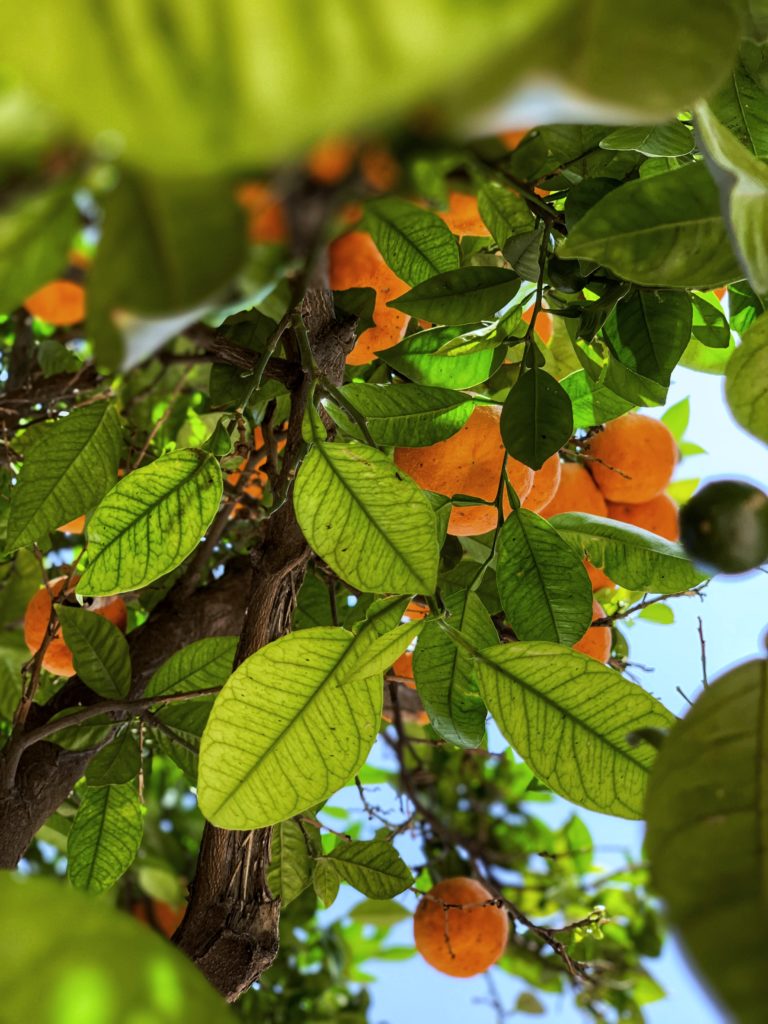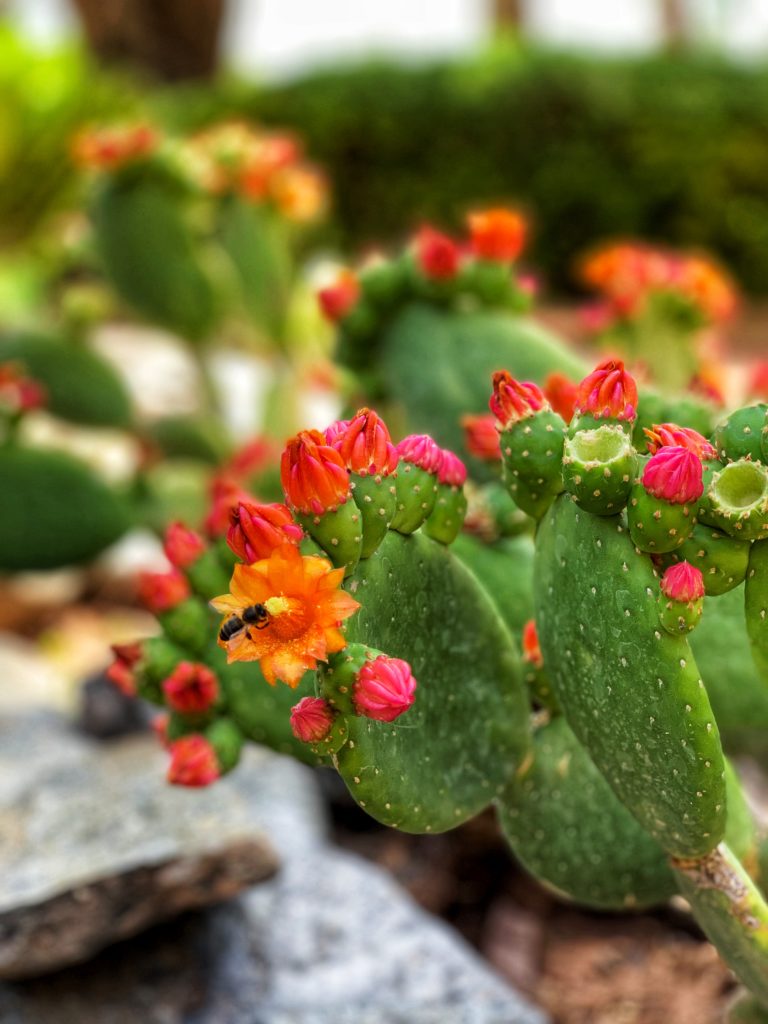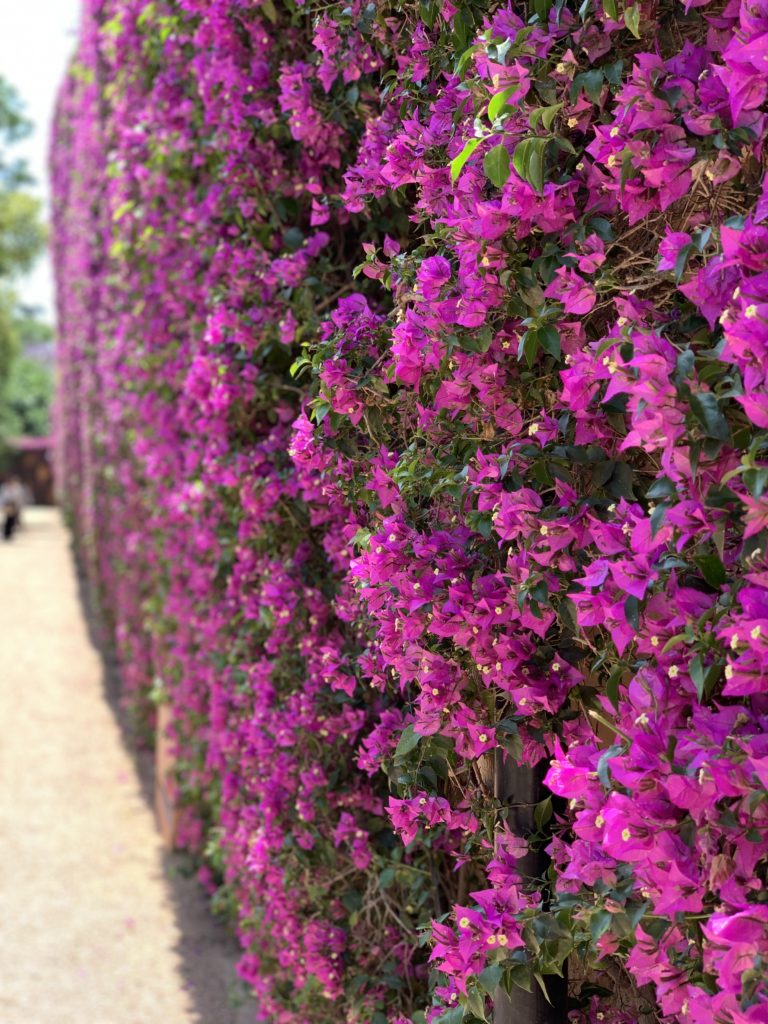 Menara Gardens and Their Revolutionary Techniques
Although not as Instagramabe as our previous stop, it's still worth a visit to appreciate the technique developed here. The impressive basin irrigates the surrounding olive groves using water supplied thanks to a revolutionary hydraulic system. This manages to convey water from the mountains located almost 30 km away from Marrakesh.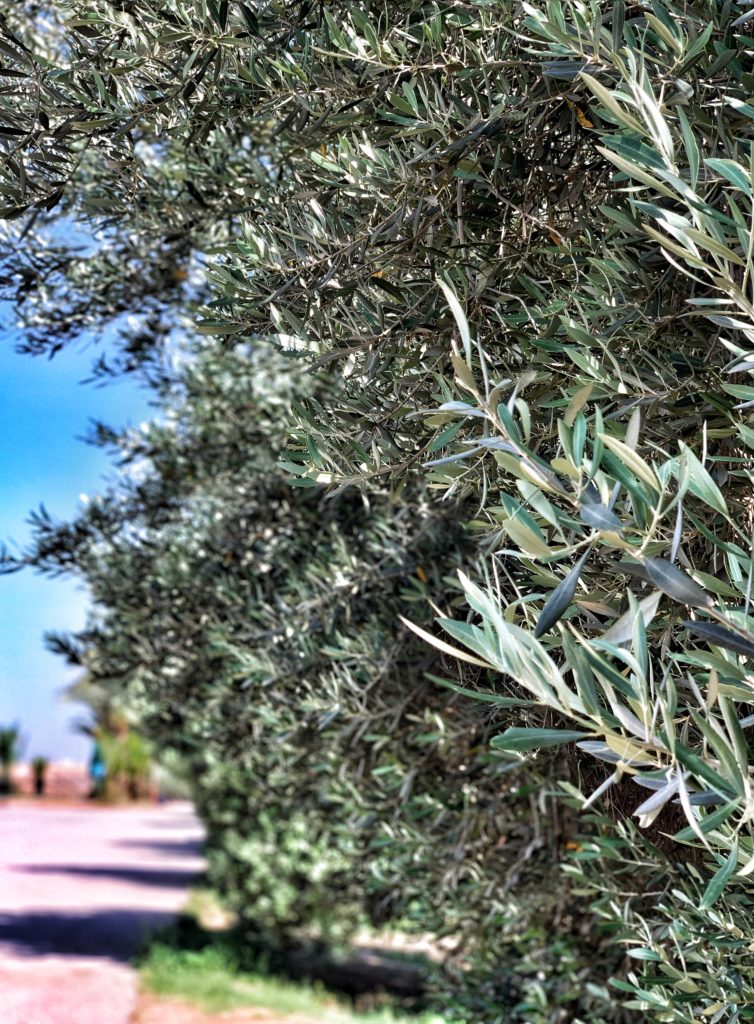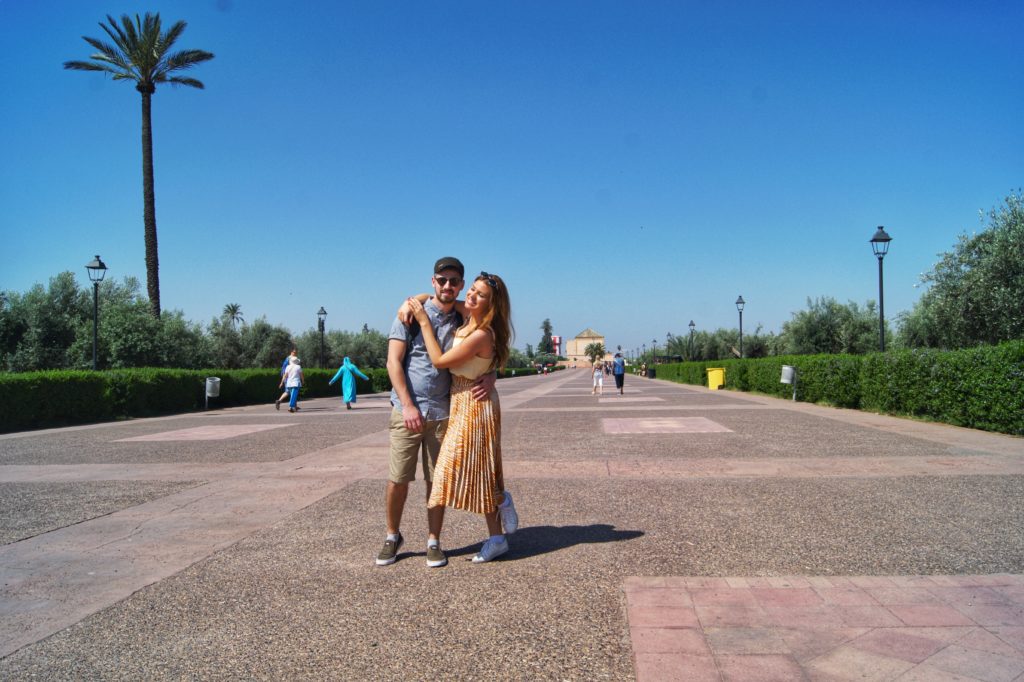 Kotoubia Mosque- The Oldest Mosque in Marrakesh
Next, there is the Kotoubia Mosque, which is the most important and the oldest mosque in Marrakesh. With its construction finalised around 1196, it is a classic and important example of Almohad architecture. It likely inspired other buildings such as the Giralda of Seville and the Hassan Tower of Rabat, which were built shortly after.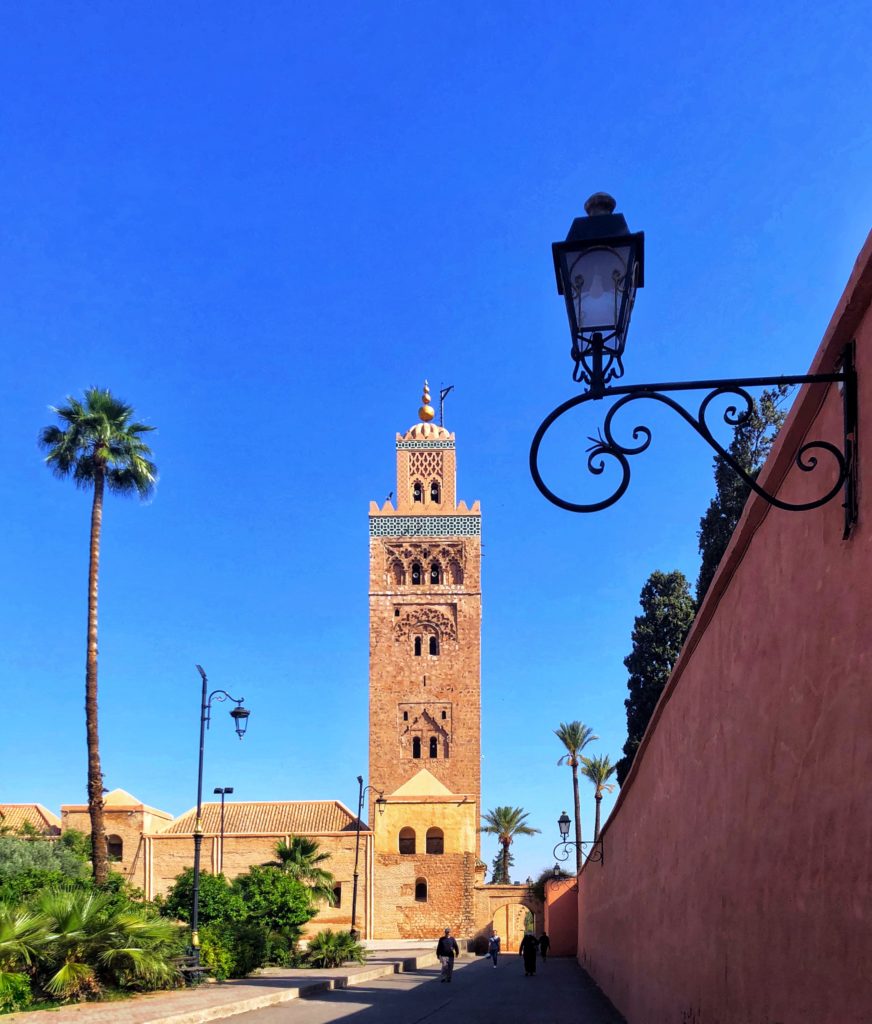 Bahia Palace- The Essence of Moroccan Style
Meaning "brilliance", the name suits the palace well. Dating back to the 19th century, it intends to capture the essence of the Islamic and Moroccan style. With its impressive architecture and some of the city's finest painted ceiling, we think it clearly does. There's lots of marble, spectacular doorways, tiled walls and mosaics. It's also a great escape from the intense heat outside the palace.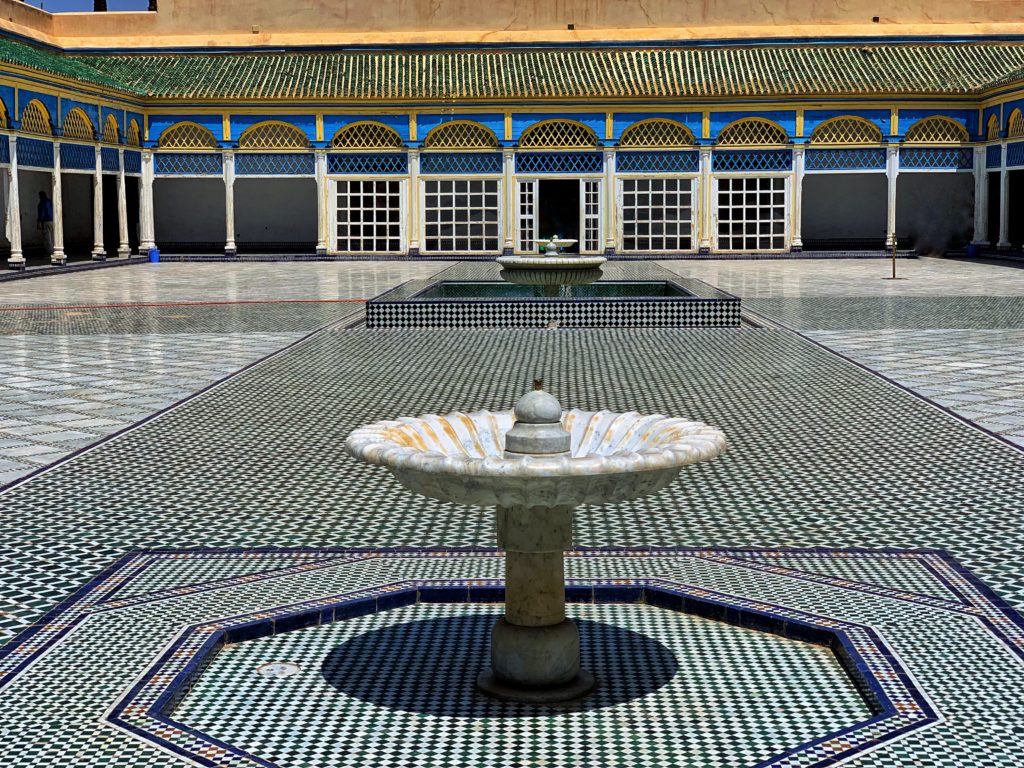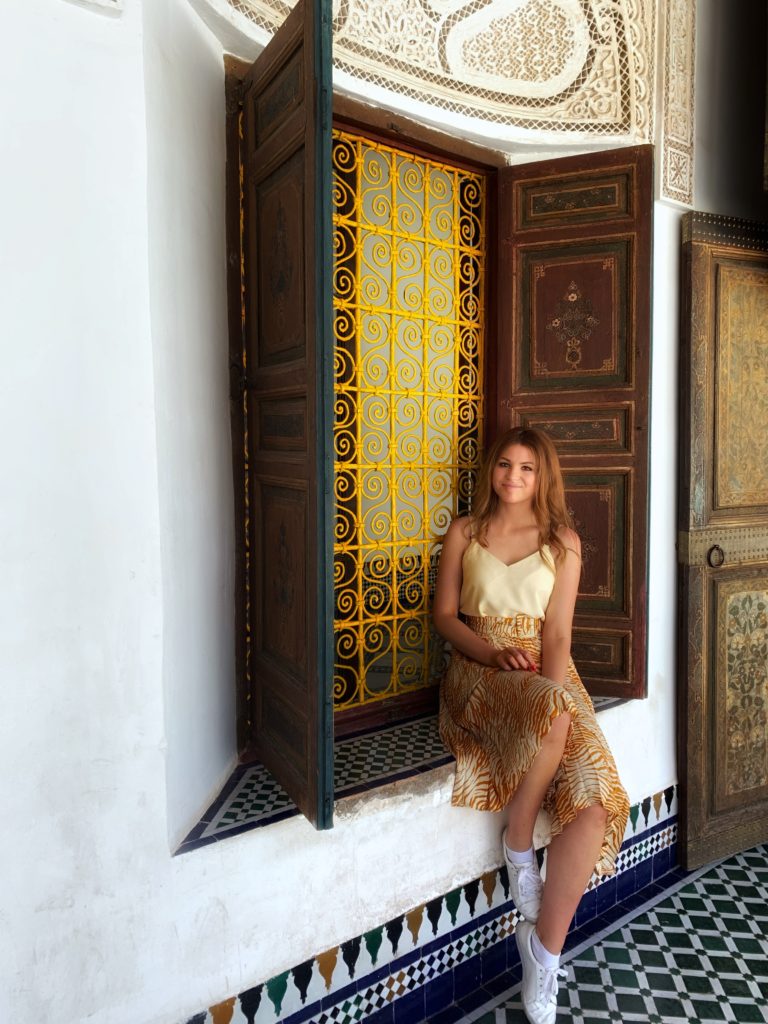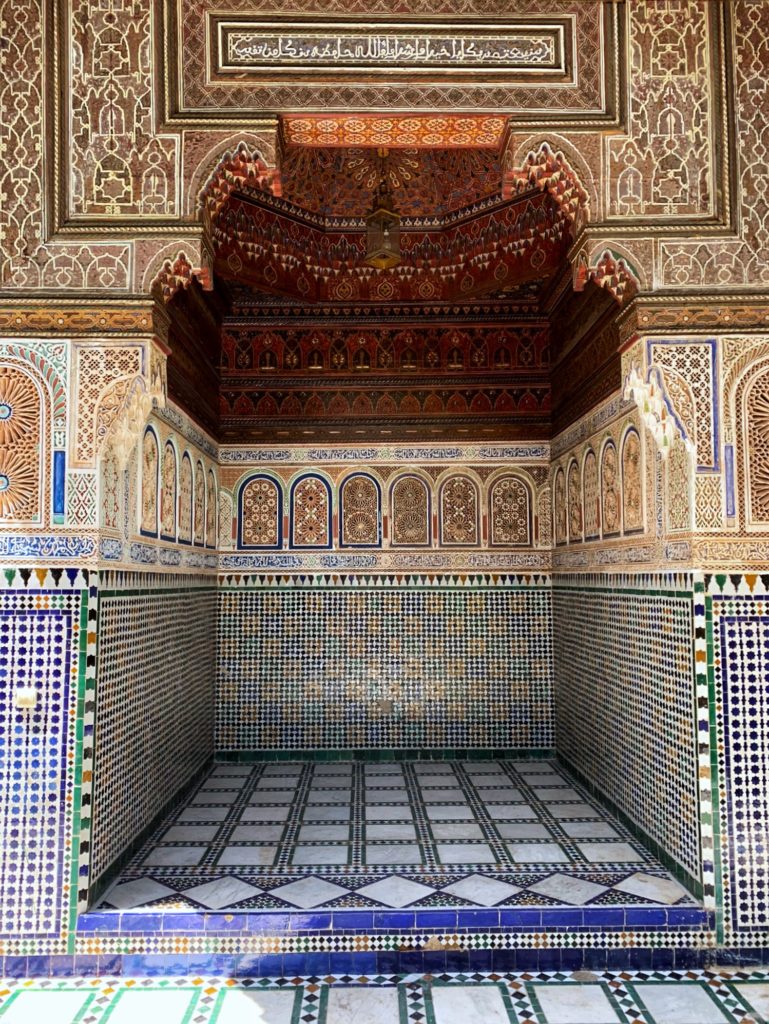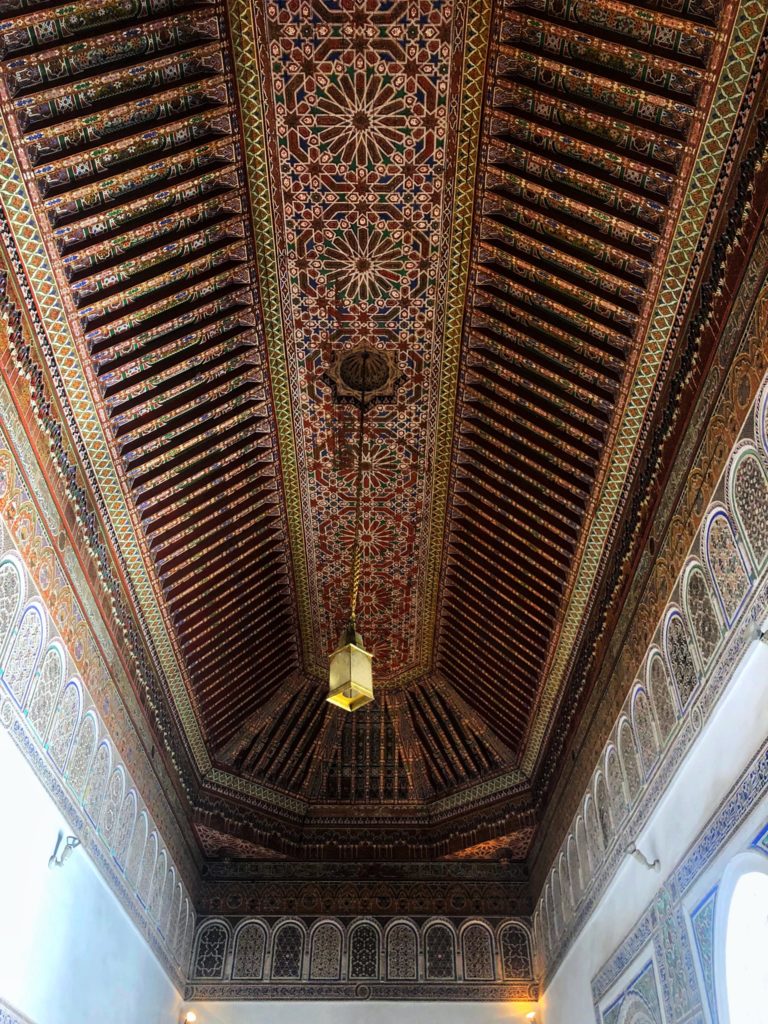 The Royal Entrance Through Bab Agnaou
It's perhaps the most unique of Marrakesh's nineteen gates, being one of the two original entrances to the Kasbah. It's also unique due to its function as a royal entrance. With floral decorations around the corners and framed by three panels with inscriptions from the Quran, it's a masterpiece.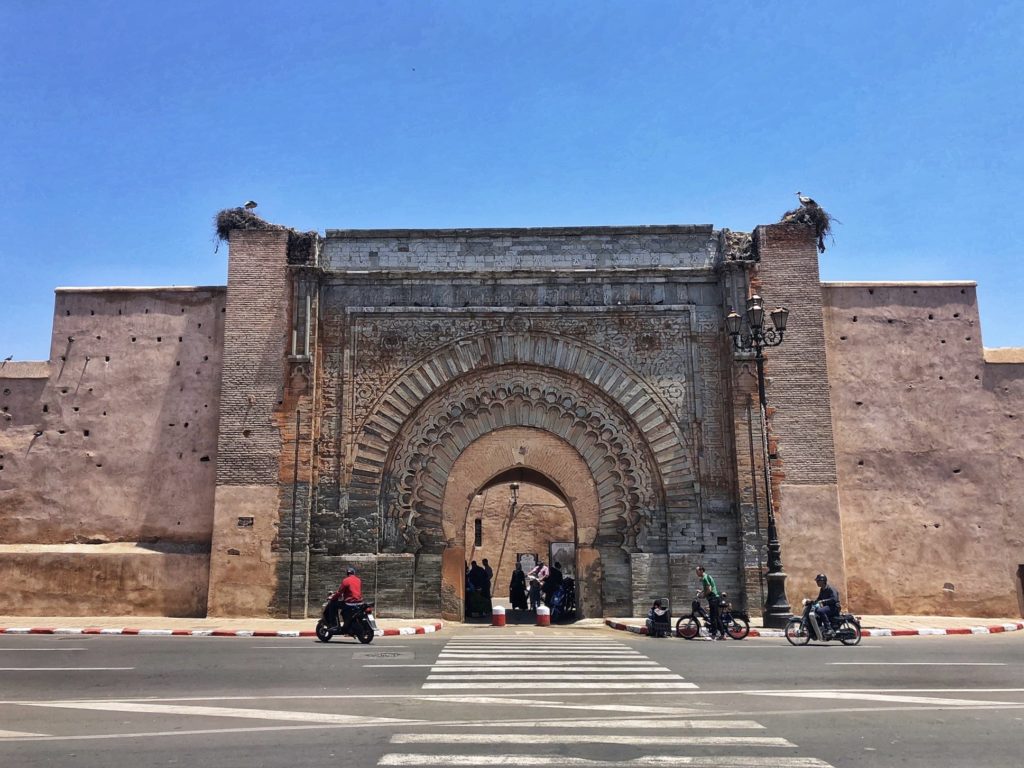 Jardin Majorelle and Yves Saint Laurent Museum
It's now time to leave the Medina for the famous Jardin Majorelle – a wonderful twelve-acre ornamental garden. It was originally created by the French artist Jacques Majorelle, who carefully cultivated 135 plant species from five continents. He turned his property into an enchanting landscape garden of cactus, bougainvillea, palms, coconut trees, banana trees, white water lilies, bamboo and more.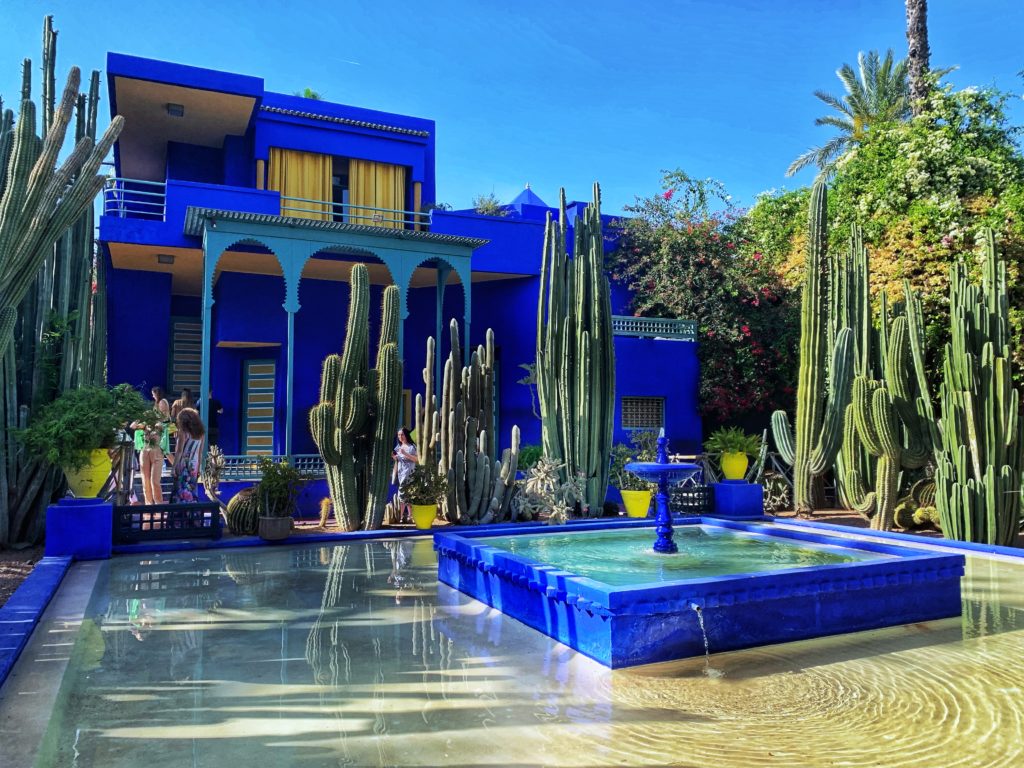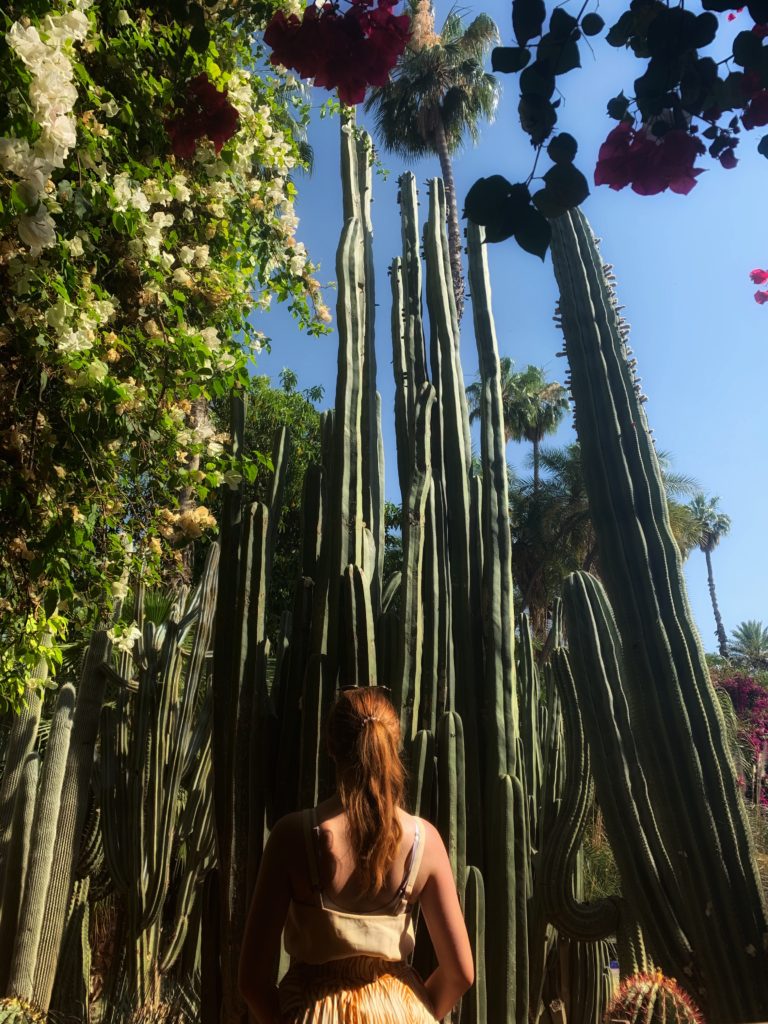 He also used his own colour to paint the buildings dotted around the property, a clear and intense blue that he trademarked as Majorelle Blue. Later restored by Yves Saint-Laurent and Pierre Bergé, the place is truly an Eden-like place. No wonder why Yves Saint Laurent chose to have his ashes scattered here, in the rose garden. Surprisingly, I've noticed that most of the online reviews complain about the queuing time, but we haven't experience anything like that.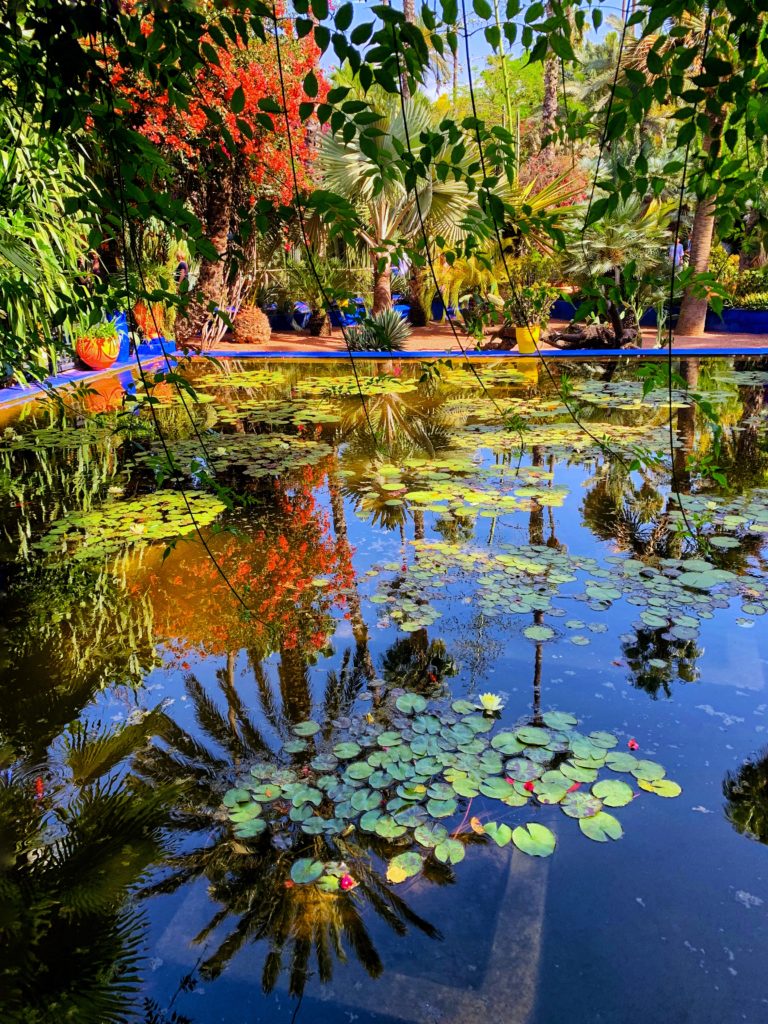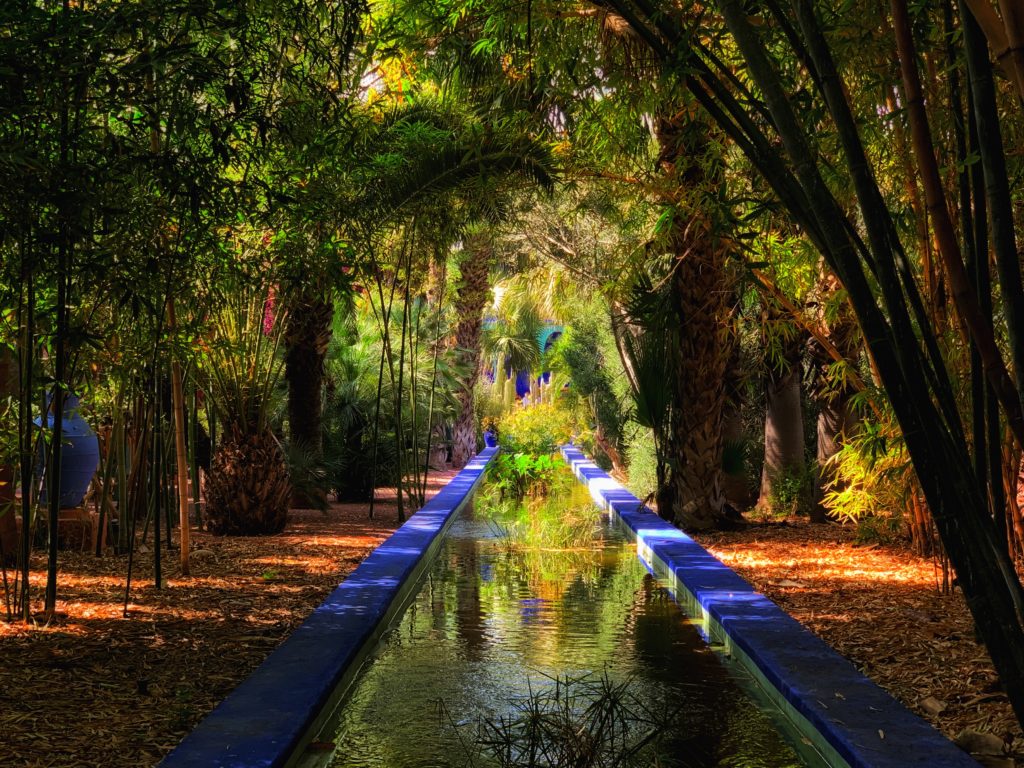 The place also houses the Islamic Art Museum of Marrakesh, the Berber Museum and the Yves Saint Laurent Museum. The latter one spans 40 years of creative work by legendary fashion designer Yves Saint Laurent. It showcases finely selected collections of haute couture clothing and accessories. There's also photography, notebooks and sketches- every fashion lover's dream, so I'd say it's worth every penny for anyone who's into this.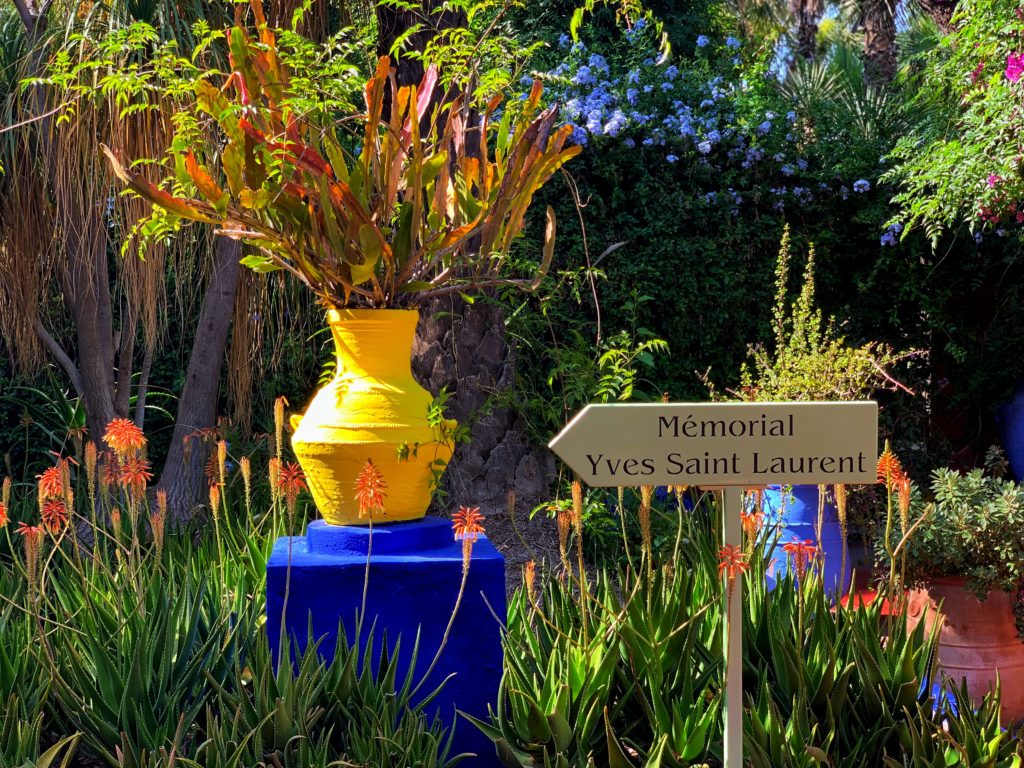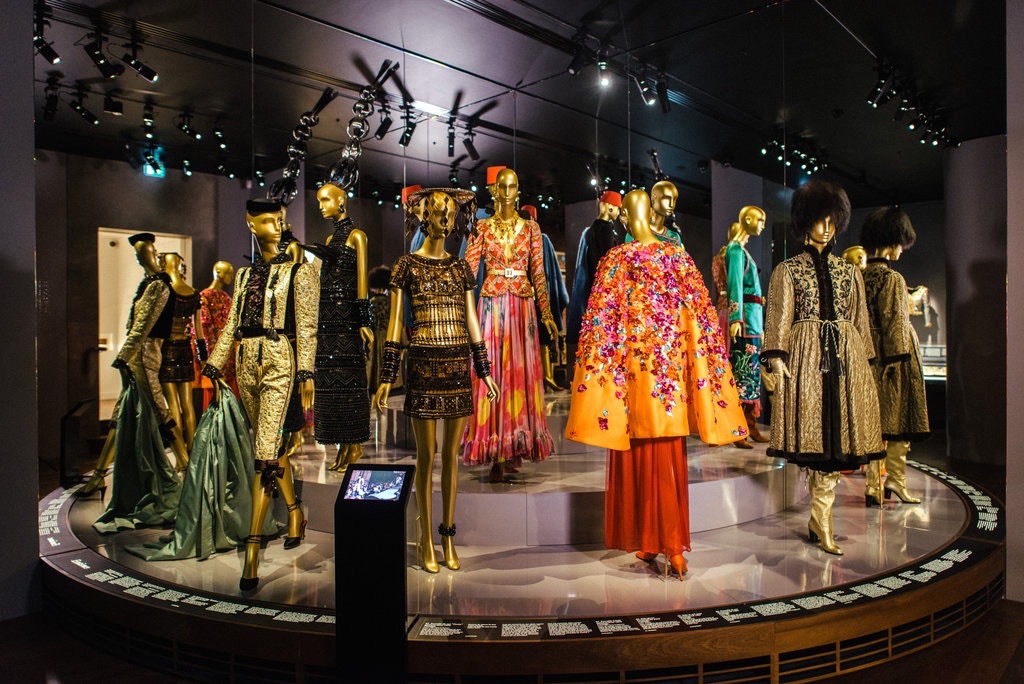 Enjoy your Riad in Marrakesh
If you're not sure what these actually are, riads are traditional Moroccan houses or palaces. They have some distinctive architectural characteristics: no windows and a courtyard on the inside, giving Muslim families more privacy. From the outside, they look like plain, dark walled buildings. However, as soon as you enter, you will be bombarded with sunlight, coloured tiles and pretty mosaics. There are hundreds of them dotted around the medina and the majority are so beautiful. To get a sense of the Moroccan culture, you should definitely stay at one especially as it gives you an easy access to the souks. We chose Riad Mabrouk for its breath-taking rooftop views.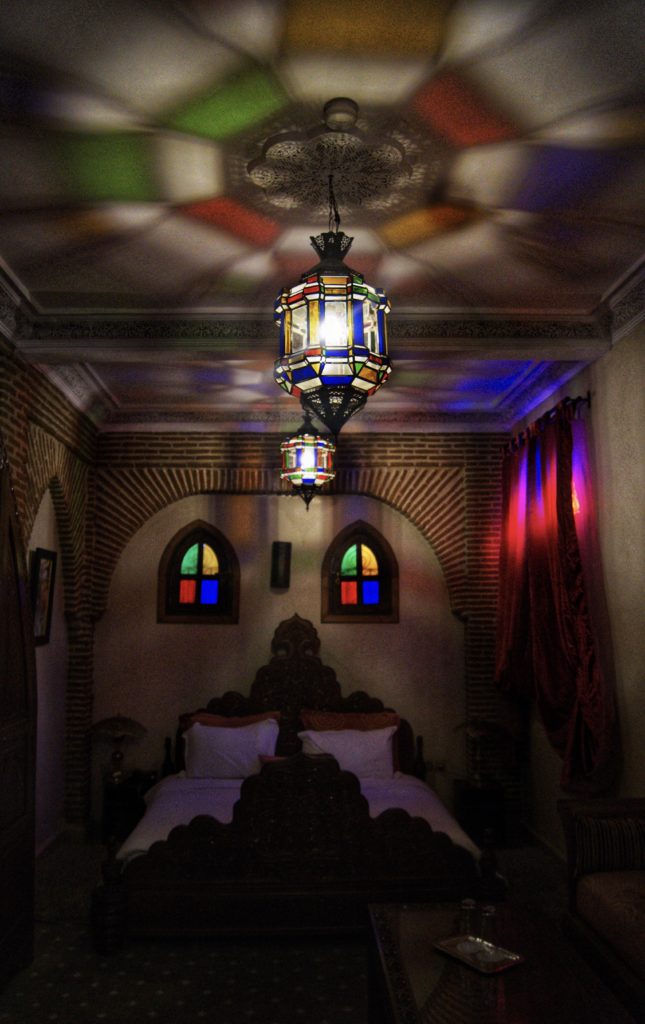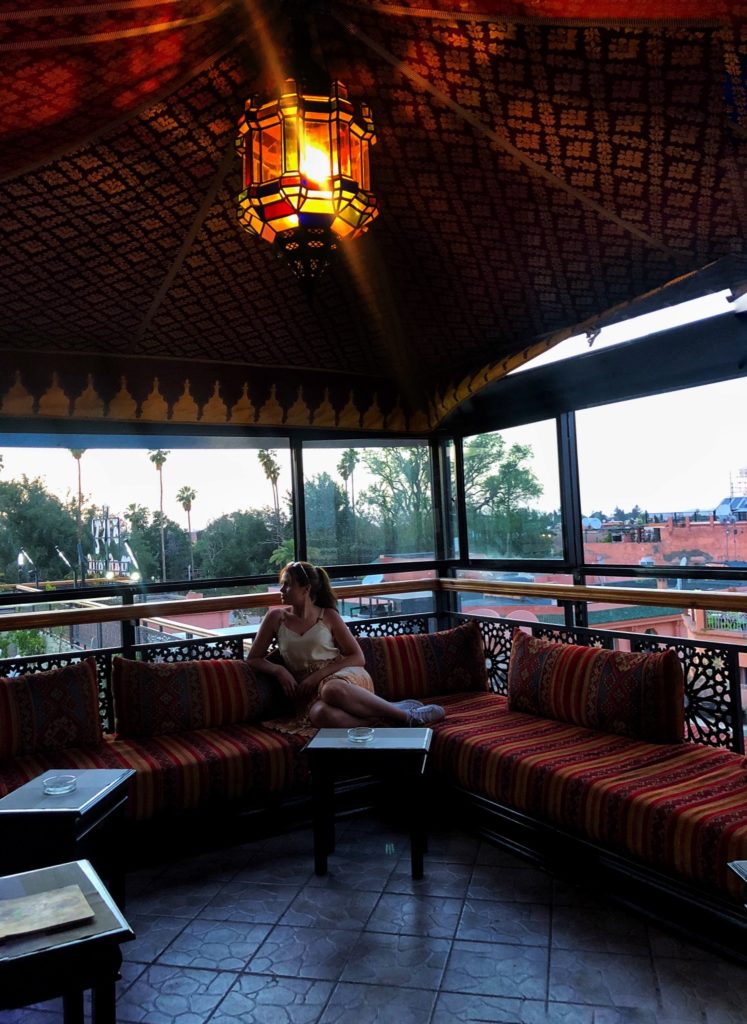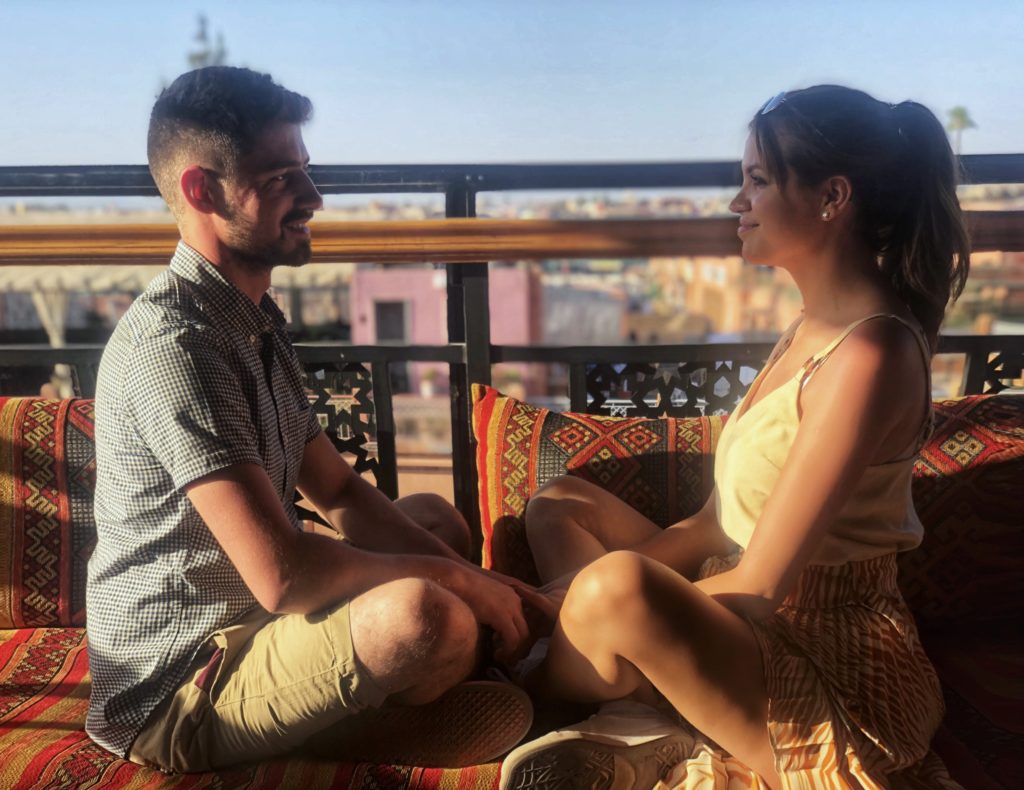 Practice Haggling in Moroccan Souks
It's unimaginable to visit Marrakesh without getting lost in the souks. These are North African marketplaces, where you'll explore winding lane-ways clogged with people, donkeys and countless small businesses. Although primarily selling leather pieces, jewellery, home décor and spices, you will find here anything you can image, and even more. Make sure you also read our previous post on top tips for Morocco, where we touch on how and why should you be firm but polite when you aren't interested in a purchase.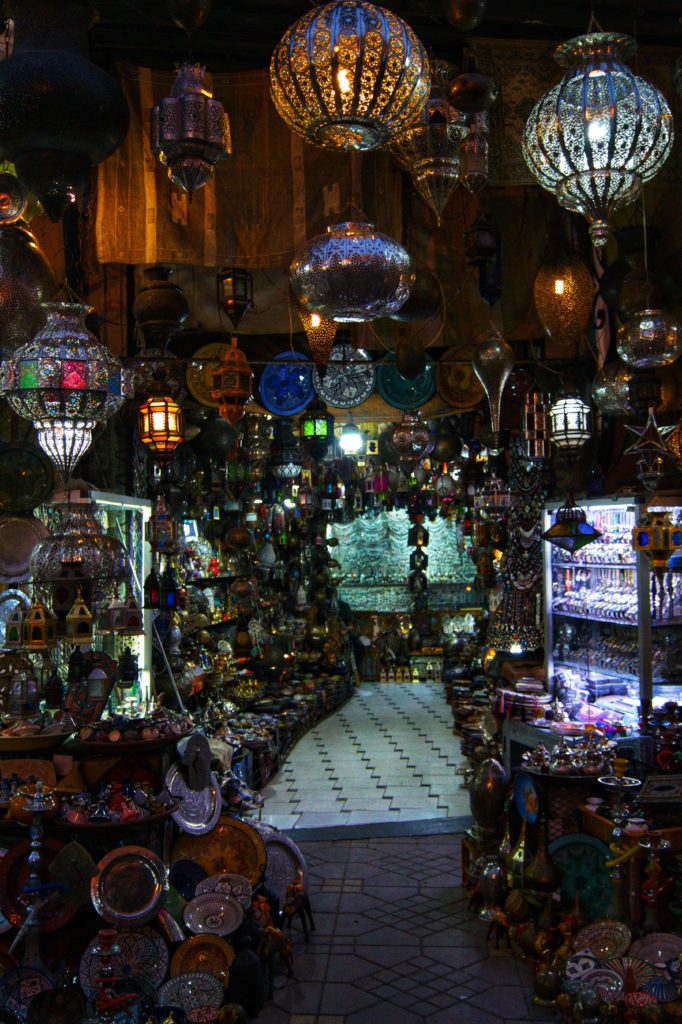 Experience Hammam
After a packed day, you'll want to take a well-deserved break and just relax. Fortunately, Marrakesh has the perfect treat: Hammam. Similar to a Turkish bath, a public hammam is a steam room where people go to clean themselves. It involves a series of treatments, such as hair masks, cleaning with olive soap and exfoliating with a rough glove. A valuable weekly ritual in the Islamic world, it's also considered a social activity. Many people will spend hours here chatting with friends. You leave feeling super refreshed and clean, ready for a new day of adventures. To top it up, you can also opt for a massage afterwards, which most hammam providers will have as an option. Note is that although the baths are separated by gender, you will be completely naked during hammam and you'll have a stranger bathing you, so brace yourself for that.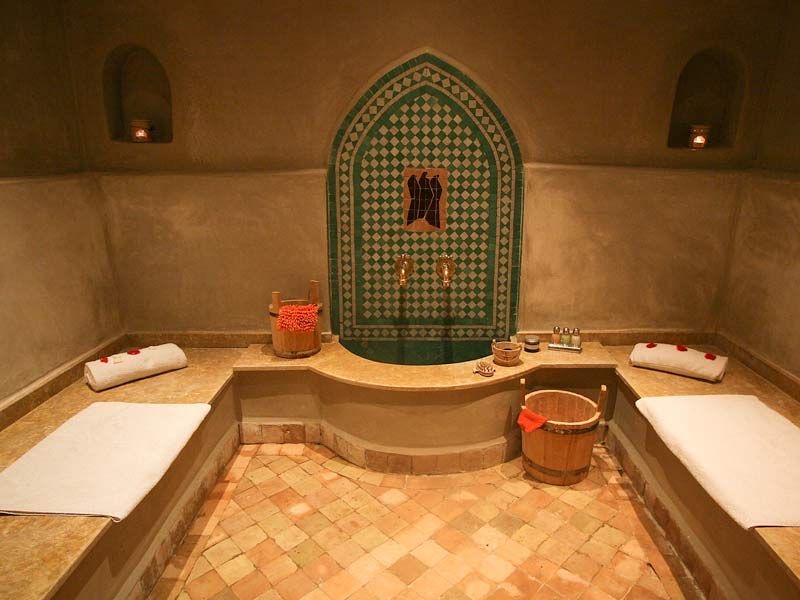 Find the Best and Worst in Marrakesh in Jemaa el-Fnaa
Amongst the many things to do in Marrakesh, the visit to the main square, Jemma el-Fnaa, stands out. It's the place where you can explore and breathe in the real spirit of Morocco. Declared a World Heritage Site by UNESCO in the category of cultural space, it's also where you'll find the best and worst of Marrakesh. Thus, this side of Marrakesh tends to leave people with a love-hate relationship with the city.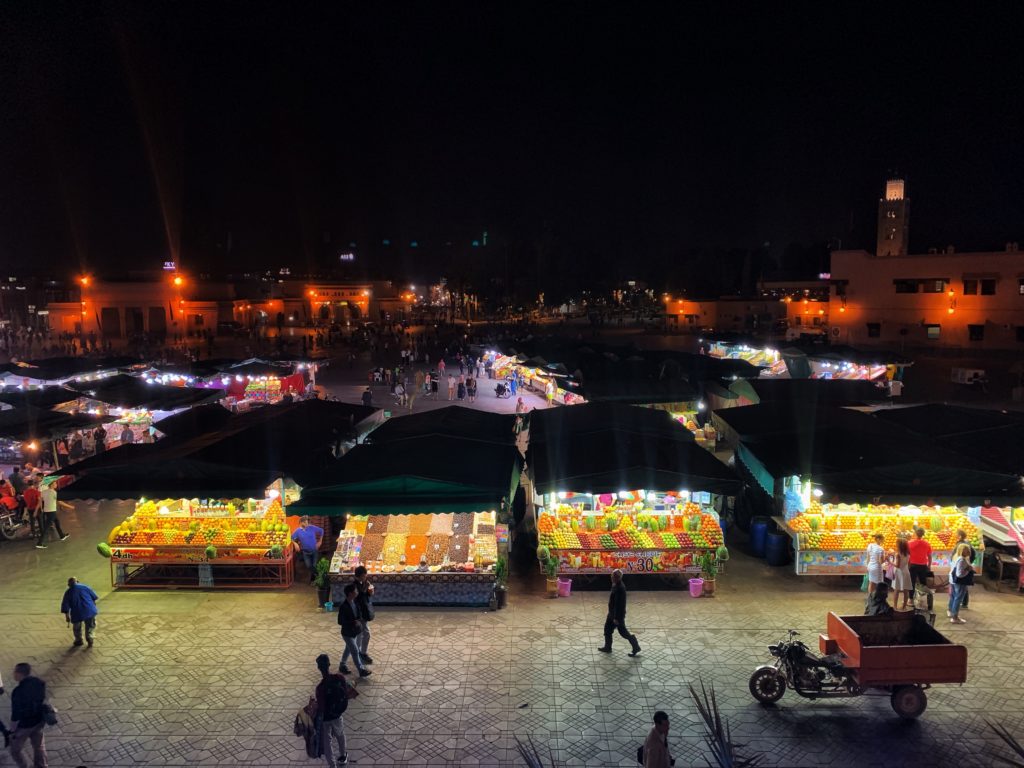 By day, most of the square is a big open space full of performances. There are snake charmers, fortune tellers, monkeys, henna artists and live Berber musicians. At first, you will definitely feel a bit intimidated by the crowds of people. To save yourself a headache and avoid any scams, make sure you read our previous post where we share our incident. Learn from our mistakes and don't take any pictures of the snake charmers.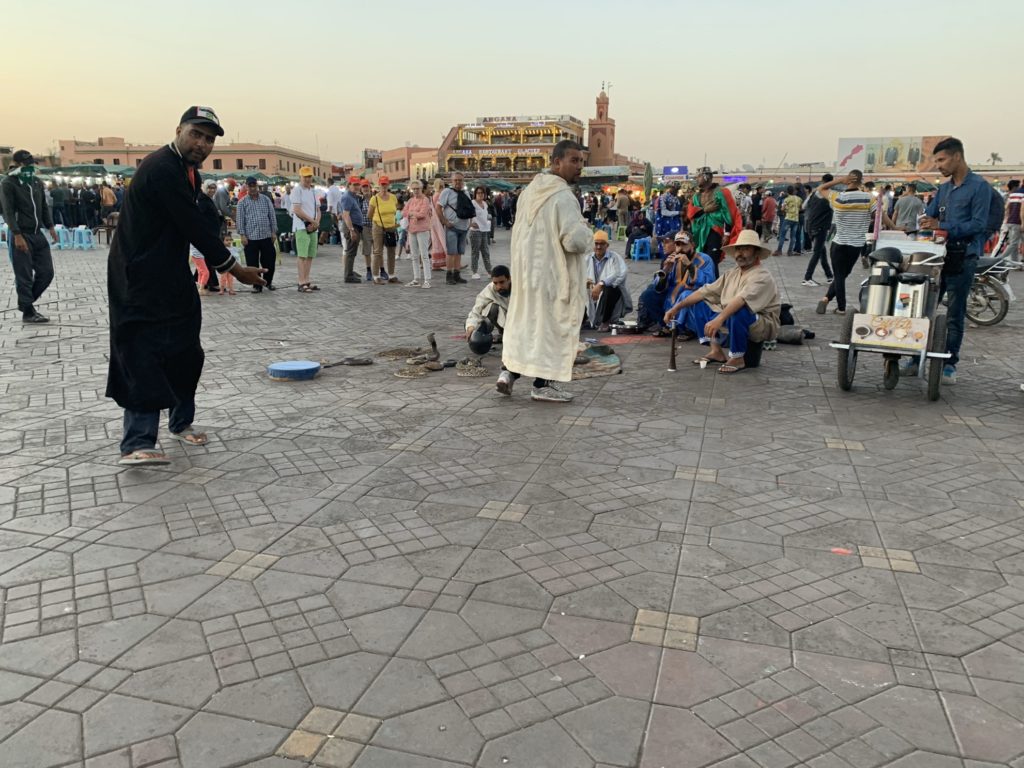 As dusk falls, the square becomes a huge open-air dining area packed with stalls lit by gas lanterns. The air is filled with wonderful smells and plumes of cooking smoke spiralling up into the night. It's worth spending some time on this square both during the day and night as the vibe is so different. After a relaxing hammam, you may want to enjoy a cup of tea on Café Glacier's rooftop terrace. Other restaurants have better food, but if you're here for the view, this has the best one of the square. On top of enjoying the lovely colours at dusk, it's impressive to look down the madness and see how the square transforms as the lights switch one.